Thailand in Brief

Success Stories

Business Opportunities

[{"have_node":0,"menu_link":"index.php?page=thailand_advantages","type_click":"_self","menu_name":"Thailand's Advantages"},{"have_node":0,"menu_link":"index.php?page=thailand_rankings","type_click":"_self","menu_name":"Thailand's Rankings"},{"have_node":0,"menu_link":"index.php?page=macroeconomics","type_click":"_self","menu_name":"Macroeconomics"},{"have_node":0,"menu_link":"index.php?page=living_in_thailand","type_click":"_self","menu_name":"Living in Thailand"},{"have_node":1,"menu_name":"Thailand in Brief","node":[{"have_node":0,"menu_link":"index.php?page=demographic","type_click":"_self","menu_name":"Demographic"},{"have_node":0,"menu_link":"index.php?page=economic_overview","type_click":"_self","menu_name":"Economic Overview"},{"have_node":0,"menu_link":"index.php?page=social_and_culture","type_click":"_self","menu_name":"Social and Culture"},{"have_node":1,"menu_name":"Infrastructure","node":[{"have_node":0,"menu_link":"index.php?page=electricity","type_click":"_self","menu_name":"Electricity"},{"have_node":0,"menu_link":"index.php?page=water_supply","type_click":"_self","menu_name":"Water Supply"},{"have_node":0,"menu_link":"index.php?page=telephone_services","type_click":"_self","menu_name":"Telephone Services"},{"have_node":0,"menu_link":"index.php?page=seaports","type_click":"_self","menu_name":"Seaports"},{"have_node":0,"menu_link":"index.php?page=airports","type_click":"_self","menu_name":"Airports"},{"have_node":0,"menu_link":"index.php?page=highways","type_click":"_self","menu_name":"Highways"},{"have_node":0,"menu_link":"index.php?page=railways","type_click":"_self","menu_name":"Railways"},]},]},{"have_node":1,"menu_name":"Success Stories","node":[{"have_node":0,"menu_link":"index.php?page=success_stories&group_id=101363","type_click":"_self","menu_name":"The Next-generation Automotive"},{"have_node":0,"menu_link":"index.php?page=success_stories&group_id=101364","type_click":"_self","menu_name":"The Intelligent Electronics"},{"have_node":0,"menu_link":"index.php?page=success_stories&group_id=101365","type_click":"_self","menu_name":"Advanced Agriculture and Biotechnology Enterprises"},{"have_node":0,"menu_link":"index.php?page=success_stories&group_id=101366","type_click":"_self","menu_name":"Food Processing Industries"},{"have_node":0,"menu_link":"index.php?page=success_stories&group_id=101367","type_click":"_self","menu_name":"Tourism"},{"have_node":0,"menu_link":"index.php?page=success_stories&group_id=101369","type_click":"_self","menu_name":"Advanced Robotics for Industrial and Domestic Use"},{"have_node":0,"menu_link":"index.php?page=success_stories&group_id=101371","type_click":"_self","menu_name":"Medical Hub & Total Healthcare Services"},{"have_node":0,"menu_link":"index.php?page=success_stories&group_id=101372","type_click":"_self","menu_name":"Biofuels and Biochemical Industries"},{"have_node":0,"menu_link":"index.php?page=success_stories&group_id=101370","type_click":"_self","menu_name":"An Integrated Aviation"},{"have_node":0,"menu_link":"index.php?page=success_stories&group_id=101373","type_click":"_self","menu_name":"Digital Technology"},]},{"have_node":1,"menu_name":"Business Opportunities","node":[{"have_node":1,"menu_name":"Business Opportunities","node":[{"have_node":0,"menu_link":"index.php?page=business_opportunities_detail&topic_id=117514","type_click":"_self","menu_name":"Aerospace Industry"},{"have_node":0,"menu_link":"index.php?page=business_opportunities_detail&topic_id=117515","type_click":"_self","menu_name":"Alternative Energy"},{"have_node":0,"menu_link":"index.php?page=business_opportunities_detail&topic_id=117517","type_click":"_self","menu_name":"Automotive Industry"},{"have_node":0,"menu_link":"index.php?page=business_opportunities_detail&topic_id=117516","type_click":"_self","menu_name":"Automation & Robotics"},{"have_node":0,"menu_link":"index.php?page=business_opportunities_detail&topic_id=117519","type_click":"_self","menu_name":"Bioeconomy"},{"have_node":0,"menu_link":"https://www.boi.go.th/index.php?page=business_opportunities_detail&topic_id=130725","type_click":"_self","menu_name":"Biopharmaceutical Industry"},{"have_node":0,"menu_link":"index.php?page=business_opportunities_detail&topic_id=117518","type_click":"_self","menu_name":"Bio-plastics Industry"},{"have_node":0,"menu_link":"index.php?page=business_opportunities_detail&topic_id=128004","type_click":"_self","menu_name":"Data Center and Cloud Service"},{"have_node":0,"menu_link":"index.php?page=business_opportunities_detail&topic_id=117530","type_click":"_self","menu_name":"Digital, Creative, and Startup Ecosystem"},{"have_node":0,"menu_link":"https://www.boi.go.th/index.php?page=business_opportunities_detail&topic_id=130734","type_click":"_self","menu_name":"Electric Vehicle Services"},{"have_node":0,"menu_link":"index.php?page=business_opportunities_detail&topic_id=117522","type_click":"_self","menu_name":"Food Industry"},{"have_node":0,"menu_link":"https://www.boi.go.th/index.php?page=business_opportunities_detail&topic_id=130732","type_click":"_self","menu_name":"High Value-added Services"},{"have_node":0,"menu_link":"index.php?page=business_opportunities_detail&topic_id=117525","type_click":"_self","menu_name":"Machinery Industry"},{"have_node":0,"menu_link":"index.php?page=business_opportunities_detail&topic_id=128002","type_click":"_self","menu_name":"Medical Device"},{"have_node":0,"menu_link":"index.php?page=business_opportunities_detail&topic_id=117526","type_click":"_self","menu_name":"Medical Hub"},{"have_node":0,"menu_link":"index.php?page=business_opportunities_detail&topic_id=117529","type_click":"_self","menu_name":"Rubber Industry"},{"have_node":0,"menu_link":"index.php?page=business_opportunities_detail&topic_id=117532","type_click":"_self","menu_name":"Smart E&E Industry"},{"have_node":0,"menu_link":"index.php?page=business_opportunities_detail&topic_id=117531","type_click":"_self","menu_name":"Textile Industry"},]},]},{"have_node":0,"menu_link":"index.php?page=boi_advertorials","type_click":"_self","menu_name":"BOI Advertorials"},]
Thailand's Rankings
Thailand has been and continues to be one of the most successful countries in the region for attracting Foreign Direct Investment (FDI), due to its numerous advantages for foreign investors seeking to do business in Asia. It provides an attractive business climate which has consistently received decades of support for private investment from successive Thai governments, all of which have realized the important role of the private sector in creating and maintaining Thailand's economic growth and prosperity along with its technological development.
In particular, the Thai government's extremely positive stance toward foreign investors means that, unless the special incentives offered by the Board of Investment (BOI) are being applied for, no prior government approval is necessary for making investments in Thailand, and most sectors of the economy are open to foreign investors. Thailand continues to improve its attractiveness for FDI through many government initiatives which seek to make the country more accessible to those seeking to expand their presence in Asia while at the same time reducing the amount of "red tape" required for beginning or expanding such business activities. This has resulted in a steady improvement in the country's overall rankings as published by independent observers, some of which are highlighted here.
When asked to choose the Thailand's top 5 attractiveness indicators for the IMD's World Competitiveness Executive Opinion Survey, Thailand's business friendly environment consistently was given as the first and most important factor. The other factors listed as most favorable included a dynamic economy, open and positive attitudes, a reliable infrastructure, and competitive costs. For 2021, the capital city of Bangkok was rated as the number one destination for a "workation" in a global survey made by the German based vacation search engine company Holidu, where users voted for the location where they would most prefer to go to mix business with pleasure while working remotely from a holiday destination abroad. The Thai capital was ranked first thanks to its affordable cost of living, high degree of English-language proficiency, range of attractions, wealth of world-class facilities, and numerous multinational corporate offices. Two other Thai cities also made it into the global top ten, Chiang Mai in the north of Thailand, and Phuket in the south.
A few quick facts about Thailand:
With a land area of 513,000 square kilometers, and a population of 66.19 million, Thailand's GDP in 2022 was US$495.2 billion, with a GDP per capita of US$7,089.7, showing a real GDP growth of 2.6%. Consumer price inflation was 6.1%. The unemployment rate was 1.2% with a labor force of 40.14 million (2022 data). The current account balance of the country amounted to a negative 3.4% of its GDP in 2022. According to the UNCTAD's 2022 World Investment Report, the inflow of foreign direct investment (FDI) had reached a total of US$11.42 billion in 2021.
Thailand's position at No. 28 on the 2022 edition of the U.S. News & World Report's Best Countries among 85 participating countries worldwide, with high rankings in Adventure (#5), Movers (#7), Open for Business (#13), and Heritage (#10) categories, showcases its potential as a leading global destination for investment opportunities. With a strong economic growth rate, increasing global influence, and commitment to innovation, Thailand has become an attractive location for investors seeking new opportunities. Additionally, Thailand ranks an impressive 3rd in the Start a Business category and 19th in the Best Countries for a Comfortable Retirement category on the US News & World Report's chart of Best Countries. These impressive rankings serve as evidence of Thailand's business-friendly environment and affordable cost of living, underscoring its status as an ideal destination for both entrepreneurs and retirees.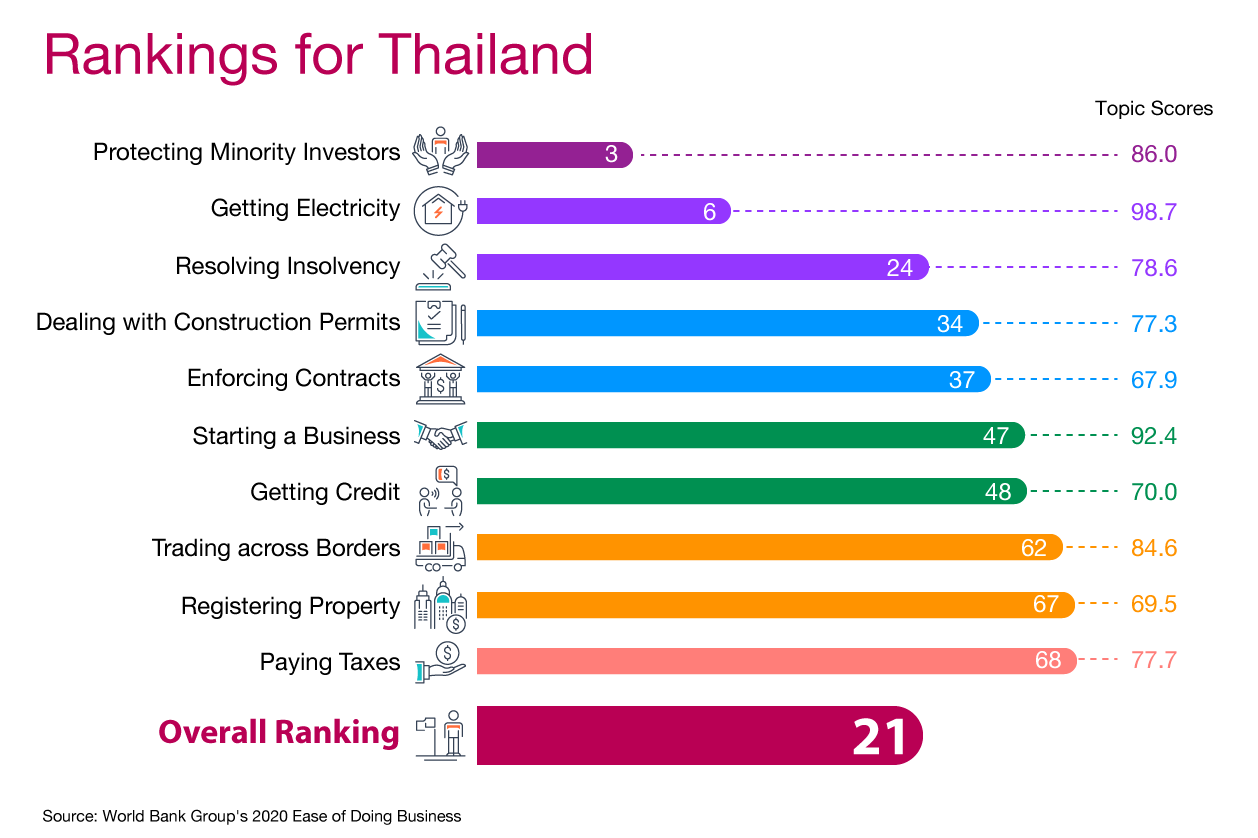 According to the World Economic Forum, Thailand's Global Competitive Index 4.0 ranking improved to 40th place (out of 141 countries) in 2019, while the World Bank Group's 2020 Ease of Doing Business report ranking Thailand 21st out of 190 countries, up six places from the previous year. Among areas in this report which showed the greatest improvement was a reduction in the number of steps required and amount of time needed for obtaining construction permits, and the score for ease of shareholder suits that in turn helped improve the ranking for protecting minority investors. Thailand's topical score for getting electricity was an outstanding 98.7 (out of 100), which earned the 6th position in that category.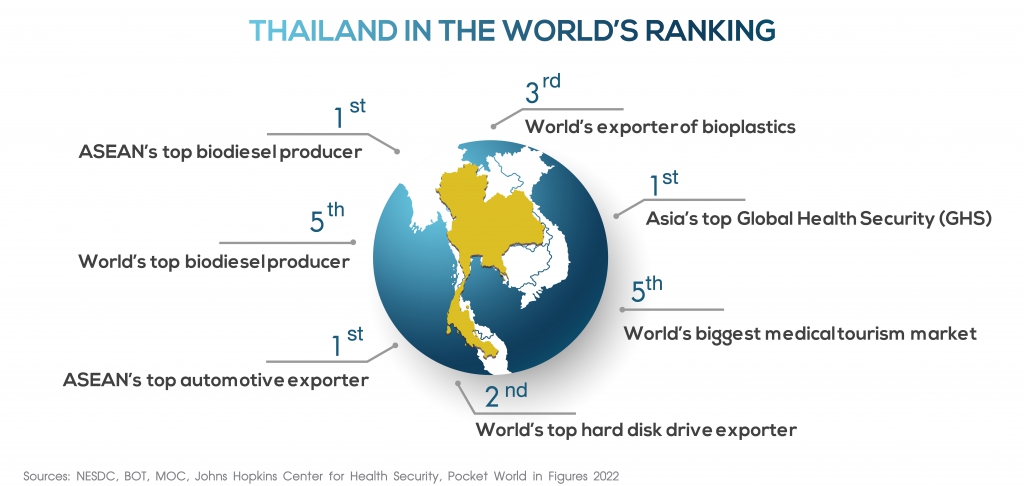 Thailand is the largest automotive exporter among Southeast Asian countries. It is also ranked the second largest Hard Disk Drive (HDD) producer in the world. For biodiesel production, Thailand ranks the 5th of the largest producer in the world and the 1st in ASEAN. Meanwhile, Johns Hopkins University has ranked Thailand as the country with the 5th best health security in the world and the 1st in Asia in the 2021 Global Health Security Index.
Digital Infrastructure Development
The government of Thailand has been emphasizing its digital development for a number of years through its focus on the Thailand 4.0 economic model, which seeks to move the country past previous economic development models which focused on agriculture (1.0), light industry (2.0) and advanced industry (3.0). It seeks to transform Thailand into a "value-based" digital economy. The four main objectives of Thailand 4.0 are economic prosperity, social well-being, raising human values and protecting the environment. In the case of digital infrastructure, this has translated into major advances in technology, particularly in support of smartphones and broadband connectivity. Thailand has invested Baht 15 billion to launch a country-wide village broadband network to provide affordable high-speed internet to over 25,000 villages across Thailand. Another major development project is the Digital Park Thailand, which is located on 284 acres in Chonburi province, on the country's eastern seaboard coast. The park supports economic development by facilitating access to the submarine cable system, landing station and data center.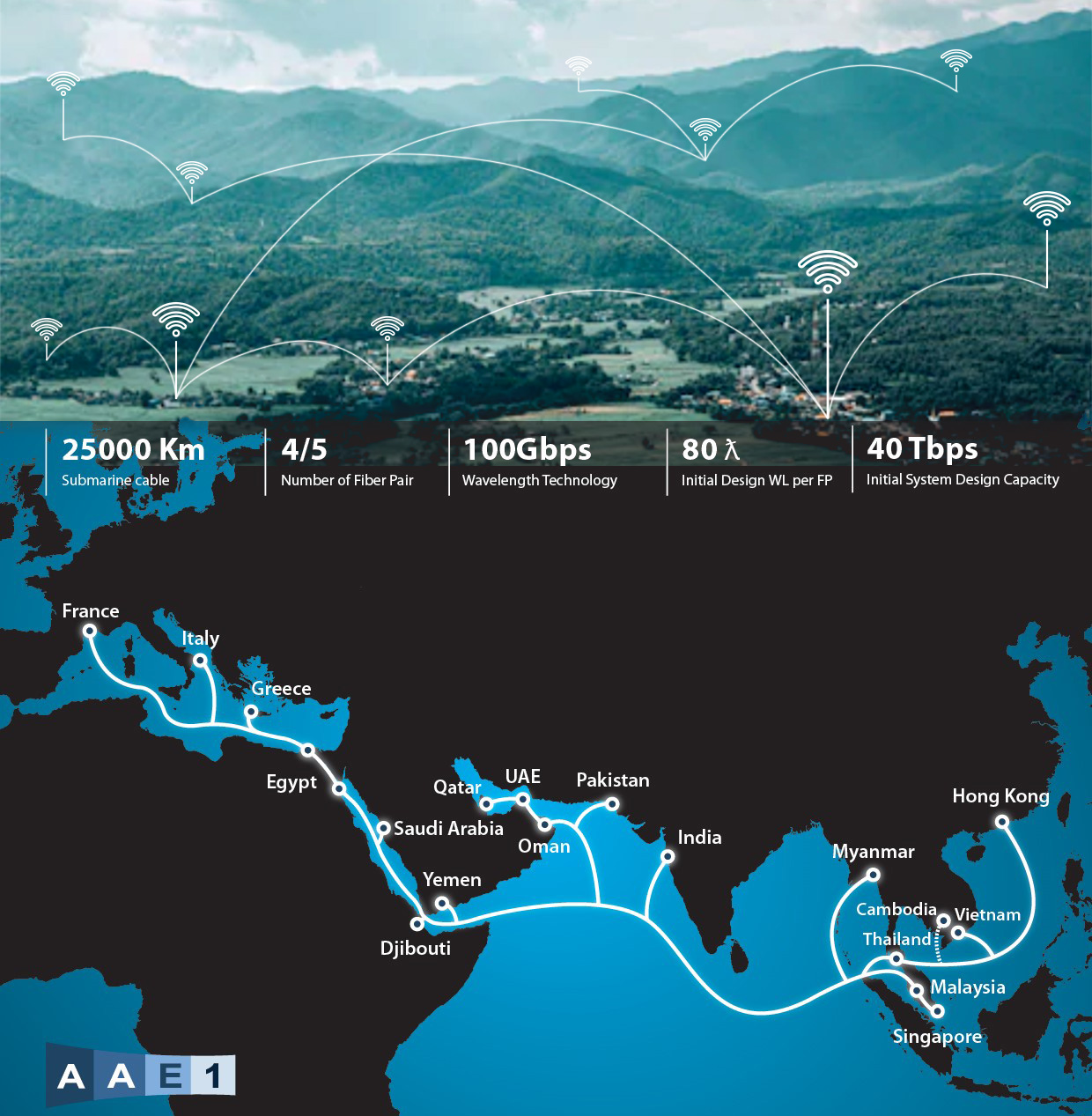 Thailand is also connected directly to the AAE-1 (Asia-Africa-Europe 1) submarine cable, which recently upgraded its cable to use state-of-the-art 200 Gbps transmission technology for connecting Europe, the Middle-East, India and on to Hong Kong. Additionally, the National Science and Technology Development Agency (NSTDA) has established the Software Park Thailand in Nonthaburi to support and strengthen Thailand's software entrepreneurs competitiveness by promoting technology transfers, providing courses for the training of IT professionals, supporting local and international collaborations, and providing office facilities and rooms for conferences, meeting and training for software companies.
Medicine and Healthcare
According to CEOWORLD's 2021 survey of 89 countries worldwide, Thailand's healthcare was ranked thirteen best in the world, beating out many renowned European countries like Norway, Germany and Switzerland as well as most other Asian countries except for South Korea, Taiwan, and Japan. The survey evaluates a country's healthcare infrastructure, professional staff competency, cost, medicine availability, and government readiness, resulting in a score of 59.52 on the Health Care Index for Thailand. This high ranking is a testament to Thailand's robust healthcare system, highly skilled healthcare professionals, affordable healthcare costs, and effective government management of healthcare services.
A recent report of research by John Hopkins University also ranked Thailand sixth best among 195 countries providing the strongest health security, as was reported at the Global Health Security Agenda Steering Group Meeting in November of 2019. Thailand was the only developing country ranked among the global top ten, and the first among Asian countries, scoring a total of 73.2 points out of 100. Supporting Thailand's medical profession across the country are 23 accredited institutions providing medical instruction; while there is a reported average of 29.3 health workers per 10,000 population nationwide, according to the World Health Organization. With ASEAN's focus on enhancing intra-regional worker mobility, the size of the medical workforce is expected to further increase as professionals in the medical industry, including nurses, dental practitioners and medical practitioners, mobilize more freely within the ASEAN community. In addition to Thailand's quality medical schools, the country also emphasizes research, development, and innovation through various governmental institutions, such as BIOTEC, the National Innovation Agency, and the Thailand Science Park. Read the "Thailand - Becoming the Medical Hub of Asia" article.
Thailand – Kitchen of the World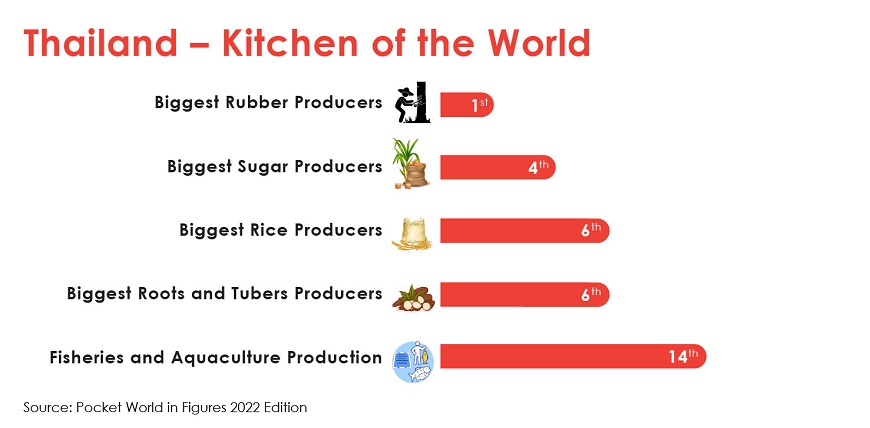 In 2019, Thailand was ranked 12th worldwide for all agricultural output. It was the 4th largest producer of sugar and the 6th largest producer of rice globally. It was the top ranked producer of natural and synthetic rubber worldwide. Much of this production was ultimately exported. Based on statistics provided by the World Bank, Thailand attained the top position in the global market for cassava, canned tuna, and canned pineapple exports in 2021. Additionally, Thailand secured the second rank in rice exports and was placed third in sugar exports. There were approximately 9,000 food processing companies in Thailand, whose total contribution account for roughly 52% of Thailand's total food exports, and nearly 15% of Thailand's manufacturing output. As one of the largest net food exporting countries in the world. Thailand reached a record value of US$38.77 billion in food exports in 2022.
Manufacturing and Economic Statistics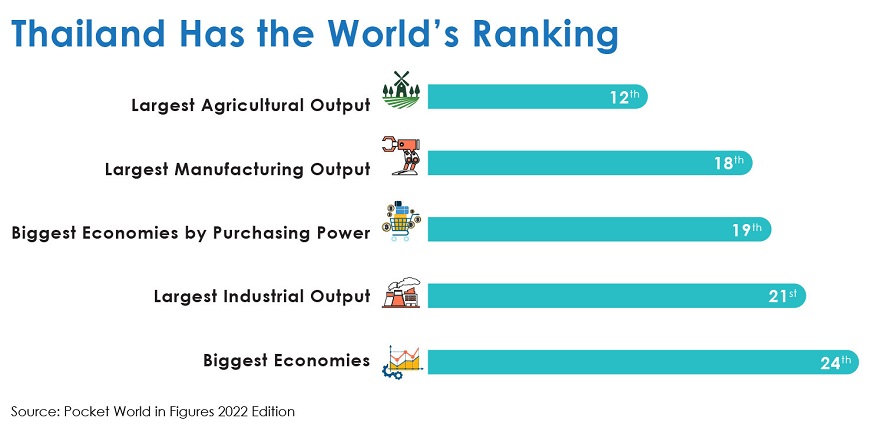 Year on year, Thailand's rankings have improved in many areas. Its trade surplus as a percentage of GDP was ranked 25th globally, and its current account surplus earned it a 13th place ranking. Its ranking was 12th largest for agricultural output, while Thailand's manufacturing output was ranked 18th worldwide. It was ranked the world's 25th largest exporter. Industrial output qualified Thailand for a 21st place ranking. Overall, Thailand's economy was ranked 24th in size, and 26th for services output. Despite world-wide economic headwinds, Thailand's economy has continued to move forward, with application requests for new factory openings totaling 2,612, creating new employment opportunities for almost 82,000 workers in 2021 according to the Industry Ministry.