Airports
Thai Airways International Public Co., Ltd. is a state enterprise under the supervision of the Ministry of Transportation. It oversees all airports in Thailand.
Thailand has 38 airports, including seven international airports. Six of them are located in Bangkok, Samutprakarn, Chiang Mai, Chiang Rai, Phuket, Hat Yai, which are under the supervision of Thai Airways International Public Co., Ltd. while U-Tapao International Airport is operated by Royal Thai Navy.
International services are provided by many carriers, including the country's national carrier, Thai Airways International Public Co., Ltd. Thai Airways flies to 66 cities in 36 countries throughout the world and is part of the Star Alliance Network, which is composed of 27 airlines, providing a network of airlines that covers the whole world.
In addition, domestic services are available to all regions of Thailand through both Thai Airways International and numerous low-cost carriers.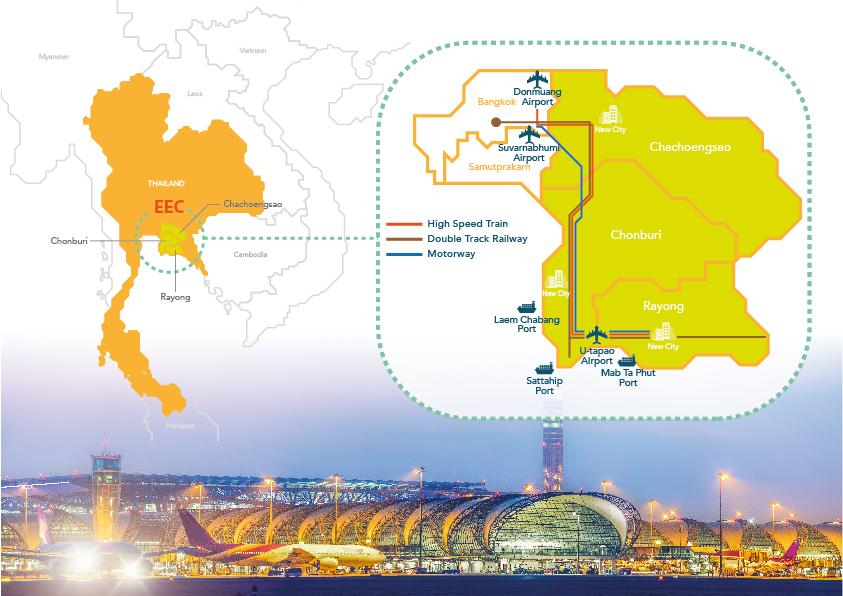 Suvarnabhumi Airport: A Regional Aviation Hub
In 2017, Suvarnabhumi Airport and Don Mueang International Airport handled 599,311 flights, an increase of 4.43% from the fiscal year 2016. A total number of 96,263,167 passengers passed through the two main airports, representing an increase of 6.77%, while freight and postal parcel volume was 1,490,824 tons, increased by 12.25%.
Suvarnabhumi Airport served 110 scheduled airlines, including 100 mixed passenger-cargo airlines and 10 pure cargo airlines. In the fiscal year 2017, international air traffic movements recovered due to the return of Chinese passengers; while domestic air traffic movements began to recover after an increase of domestic flights. This caused Suvarnabhumi Airport to serve 345,767 flights, an increase of 3.75%. This included 259,906 international flights or a 0.76% increase, and 85,861 domestic flights, an increase of 14.01%. In terms of passengers, Suvarnabhumi Airport in 2017 handled 59,079,550 passengers or a 6.50% increase. This included 48,003,084 international passengers, an increase of 4.39%, and 11,076,466 domestic passengers, an increase of 16.76% from the previous year. Freight and postal parcels handled at the airport were 1,420,244 tons, an increase of 12.45%, including 1,373,998 tons of international freight or a 12.89% increase, and 46,246 tons of domestic freight or a 0.78% increase.
Bangkok is one of the main aviation hubs in the region-alongside Hong Kong, Incheon and Singapore. It is also well placed to be a hub to Cambodia, Myanmar, Laos, Vietnam-as their economies develop."
Suvarnabhumi Airport has planned the development of phase 2 to support the expected increase in the number of passengers from 45 to 60 million passengers per year. The main project is divided into sub-projects consisting of constructions of a Midfield Satellite Building 1, its adjacent apron and a South tunnel extension, an East passenger terminal extension, an airline office building and an East parking building, and utility systems and installations of an automated people mover (APM) and baggage handling systems. The additional projects had been made including the 2nd Passenger Terminal Construction Project and the 3rd Runway Construction Project.
Hours of Operation : 24 hours
Aircraft parking space : 120, of which 8 are for Airbus A380 (5 of them are contact gates)
Duty-Free Zone (Cargo Warehouses) : The government has a policy to promote Suvarnabhumi Airport as a Center of Aviation, Passenger and Cargo Transportation. Therefore, the Duty-Free Zone was created in order to facilitate the handling of inbound, outbound cargo and transit cargo with minimum customs procedure. The Duty Free Zone is located in the northwest end of the Airport, and has a total area of 549,416 m2 or about 345 Rai, as a well as public area of 111,156 m2 .The main buildings consist of
Thai Airways International Public Company Limited and WFS-PG Cargo Company Limited Cargo handling building.
4 Warehouse
4 Freight Forwarding Agency Buildings
Office Building for Customs Office and related government agencies
Free Trade Zone Administrator Building
Phuket International Airport
Phuket International Airport ranks second in the country in terms of passenger and cargo volume. Thanks to the fascinating tourist attractions, including the world famous beaches in Phuket and the nearby provinces coupled with a complete range of tourist services, Phuket International Airport welcomes millions of passengers each year.
Phuket International Airport served 50 scheduled airlines and handled 104,849 flights, which was 10.38% higher than the previous year. Out of the total flights, 51,466 were international scheduled and chartered flights, representing a 6.78% increase. Total domestic flights were 53,383 representing a 14.08% increase. The airport served a total of 16,230,431 passengers, an increase of 10.25% over the previous year. This included 8,742,510 international passengers, an increase of 10.16%; while domestic passengers amounted to 7,487,921 or a 10.35% increase. The total freight and postal parcels handled at the airport increased by 15.67% to 48,418 tons, including 33,507 tons of international freight which increased by 24.07% from the previous year and 14,911 tons of domestic freight, representing a 0.40% increase.
Chiang Mai International Airport
Chiang Mai International Airport is the gateway to Northern Thailand which is renowned for its breathtaking natural attractions and deep-rooted cultural traditions. The airport has contributed greatly to tourism in the North over the years. Plans are being made to improve and expand the airport.
Thailand's Flights and Passenger Growth at AOT airports, Fiscal Year 2016-2017
Air traffic movements (flights)
Airport's Name
2016
2017
%
Suvarnabhumi Airport
333,263
345,767
3.75
Don Mueang International Airport
240,601
253,544
5.38
Chiang Mai International Airport
67,134
72,041
7.31
Mae Fah Luang-Chiang Rai International Airport
14,073
16,901
20.10
Phuket International Airport
94,989
104,849
10.38
Hat Yai International Airport
26,862
30,472
13.44
Total 6 airports
776,922
823,574
6
Total passenger volume (persons)
Airport's Name
2016
2017
%
Suvarnabhumi Airport
55,473,021
59,079,550
6.50
Don Mueang International Airport
34,689,890
37,183,617
7.19
Chiang Mai International Airport
9,208,256
9,973,449
8.31
Mae Fah Luang-Chiang Rai International Airport
1,959,353
2,385,224
21.74
Phuket International Airport
14,722,010
16,230,431
10.25
Hat Yai International Airport
3,871,468
4,347,130
12.29
Total 6 airports
119,923,998
129,199,401
7.73
2017 Thailand's Air Transport Movement
| Volume/Year | 2016 | 2017 | % |
| --- | --- | --- | --- |
| Total passengers (in Persons) | 119,923,998 | 129,199,401 | 7.73 |
| Total cargo & postal parcels (in Tons) | 1,407,507 | 1,574,855 | 11.89% |
| Total aircraft movements (in Flights) | 776,922 | 823,574 | 6.0 |
U-Tapao International Airport
U-Tapao International Airport is located in the Pla subdistrict of the Baanchang district in the province of Rayong. It occupies an area of land approximately 1040 hectares (6,500 rai, 2,570 acres) in size and spans from the Baan Chang to Sattahip districts in Rayong.
Presently U-Tapao International Airport has one runway of a standard length of 3,500 meters and width of 60 meters with 52 bays, which when functioning at maximum capacity can support up to 20 million passengers per year. There is currently 1 passenger terminal which can support 700,000 domestic and international passengers per year, and with continued expansion of the second passenger terminal, this value will increase to 3 million passengers per year.
Currently undertaken development plans call for government brownfield expansions in making way for a second runway, the Aviation Training Center, and public utility systems, as well as greenfield expansions for Phase 1 of the MRO facilities, Phase I Air Cargo facilities, where the latter is done in collaboration with the Thai Airways PCL, and the Aviation Training Center through collaboration with the Civil Aviation Training Center.
Sources : Airports of Thailand Public Company Limited and www.eeco.or.th
Last updated : August 30, 2018