Thailand in Brief

Success Stories

Business Opportunities

[{"have_node":0,"menu_link":"index.php?page=thailand_advantages","type_click":"_self","menu_name":"Thailand's Advantages"},{"have_node":0,"menu_link":"index.php?page=thailand_rankings","type_click":"_self","menu_name":"Thailand's Rankings"},{"have_node":0,"menu_link":"index.php?page=macroeconomics","type_click":"_self","menu_name":"Macroeconomics"},{"have_node":0,"menu_link":"index.php?page=living_in_thailand","type_click":"_self","menu_name":"Living in Thailand"},{"have_node":1,"menu_name":"Thailand in Brief","node":[{"have_node":0,"menu_link":"index.php?page=demographic","type_click":"_self","menu_name":"Demographic"},{"have_node":0,"menu_link":"index.php?page=economic_overview","type_click":"_self","menu_name":"Economic Overview"},{"have_node":0,"menu_link":"index.php?page=social_and_culture","type_click":"_self","menu_name":"Social and Culture"},{"have_node":1,"menu_name":"Infrastructure","node":[{"have_node":0,"menu_link":"index.php?page=electricity","type_click":"_self","menu_name":"Electricity"},{"have_node":0,"menu_link":"index.php?page=water_supply","type_click":"_self","menu_name":"Water Supply"},{"have_node":0,"menu_link":"index.php?page=telephone_services","type_click":"_self","menu_name":"Telephone Services"},{"have_node":0,"menu_link":"index.php?page=seaports","type_click":"_self","menu_name":"Seaports"},{"have_node":0,"menu_link":"index.php?page=airports","type_click":"_self","menu_name":"Airports"},{"have_node":0,"menu_link":"index.php?page=highways","type_click":"_self","menu_name":"Highways"},{"have_node":0,"menu_link":"index.php?page=railways","type_click":"_self","menu_name":"Railways"},]},]},{"have_node":1,"menu_name":"Success Stories","node":[{"have_node":0,"menu_link":"index.php?page=success_stories&group_id=101363","type_click":"_self","menu_name":"The Next-generation Automotive"},{"have_node":0,"menu_link":"index.php?page=success_stories&group_id=101364","type_click":"_self","menu_name":"The Intelligent Electronics"},{"have_node":0,"menu_link":"index.php?page=success_stories&group_id=101365","type_click":"_self","menu_name":"Advanced Agriculture and Biotechnology Enterprises"},{"have_node":0,"menu_link":"index.php?page=success_stories&group_id=101366","type_click":"_self","menu_name":"Food Processing Industries"},{"have_node":0,"menu_link":"index.php?page=success_stories&group_id=101367","type_click":"_self","menu_name":"Tourism"},{"have_node":0,"menu_link":"index.php?page=success_stories&group_id=101369","type_click":"_self","menu_name":"Advance Robotics for Industrial and Domestic Use"},{"have_node":0,"menu_link":"index.php?page=success_stories&group_id=101371","type_click":"_self","menu_name":"Medical Hub & Total Healthcare Services"},{"have_node":0,"menu_link":"index.php?page=success_stories&group_id=101372","type_click":"_self","menu_name":"Biofuels and Biochemical Industries"},{"have_node":0,"menu_link":"index.php?page=success_stories&group_id=101370","type_click":"_self","menu_name":"An Integrated Aviation"},{"have_node":0,"menu_link":"index.php?page=success_stories&group_id=101373","type_click":"_self","menu_name":"Digital Technology"},]},{"have_node":1,"menu_name":"Business Opportunities","node":[{"have_node":1,"menu_name":"Business Opportunities","node":[{"have_node":0,"menu_link":"index.php?page=business_opportunities_detail&topic_id=117514","type_click":"_self","menu_name":"Aerospace Industry"},{"have_node":0,"menu_link":"index.php?page=business_opportunities_detail&topic_id=117515","type_click":"_self","menu_name":"Alternative Energy"},{"have_node":0,"menu_link":"index.php?page=business_opportunities_detail&topic_id=117517","type_click":"_self","menu_name":"Automotive Industry"},{"have_node":0,"menu_link":"index.php?page=business_opportunities_detail&topic_id=117516","type_click":"_self","menu_name":"Automation & Robotics"},{"have_node":0,"menu_link":"index.php?page=business_opportunities_detail&topic_id=117519","type_click":"_self","menu_name":"Bioeconomy"},{"have_node":0,"menu_link":"index.php?page=business_opportunities_detail&topic_id=117518","type_click":"_self","menu_name":"Bio-plastics Industry"},{"have_node":0,"menu_link":"index.php?page=business_opportunities_detail&topic_id=117530","type_click":"_self","menu_name":"Digital Economy & Software Industry"},{"have_node":0,"menu_link":"index.php?page=business_opportunities_detail&topic_id=117522","type_click":"_self","menu_name":"Food Industry"},{"have_node":0,"menu_link":"index.php?page=business_opportunities_detail&topic_id=117525","type_click":"_self","menu_name":"Machinery Industry"},{"have_node":0,"menu_link":"index.php?page=business_opportunities_detail&topic_id=117526","type_click":"_self","menu_name":"Medical Hub"},{"have_node":0,"menu_link":"index.php?page=business_opportunities_detail&topic_id=117528","type_click":"_self","menu_name":"Printing Industry"},{"have_node":0,"menu_link":"index.php?page=business_opportunities_detail&topic_id=117529","type_click":"_self","menu_name":"Rubber Industry"},{"have_node":0,"menu_link":"index.php?page=business_opportunities_detail&topic_id=117532","type_click":"_self","menu_name":"Smart Electronic"},{"have_node":0,"menu_link":"index.php?page=business_opportunities_detail&topic_id=117531","type_click":"_self","menu_name":"Textile Industry"},]},]},{"have_node":0,"menu_link":"index.php?page=boi_advertorials","type_click":"_self","menu_name":"BOI Advertorials"},]
Thailand's Advantages


Strategic Location
Thailand's strategic location in the heart of ASEAN connected with the fast-growing CLMV (Cambodia, Laos, Myanmar and Vietnam) countries makes it an ideal location for businesses and business investors. Additionally, the powerhouse economies of nearby China and India are also easily reachable from Thailand by virtue of its world-class transport infrastructure, which further provides great opportunities for cross-border trade and investment.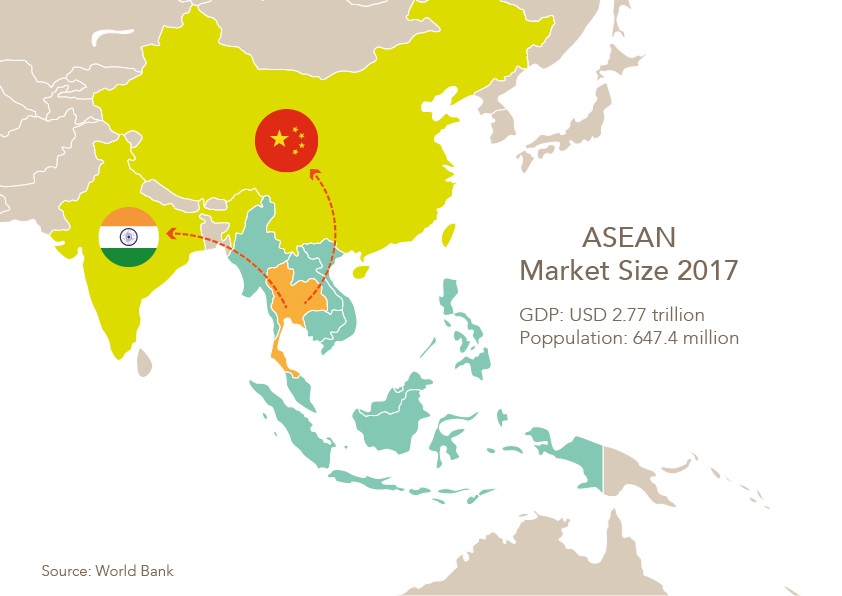 Stable Economy and Strong Export Base
Thailand's GDP has increased continuously over the past several years. The Office of the National Economic and Social Development Council reported Thailand's GDP growth for 2018 to be 4.1%, and has additionally forecasted that GDP growth for 2019 will be in the range of 3.5 - 4.5%. It is expected that the Thai economy will continue to grow favorably, driven primarily by increased consumer spending and expanding private investment, as well as gains from the recovering tourism sector. In 2018, private consumption grew at the highest rate in 6 years, accelerating to a rate of 4.6 percent, from the 2017 rate of 3.0 percent. Business investment, especially in machinery and equipment, has expanded even more rapidly, particularly as it applies to investments designated for the expansion of production capacity for exports. In 2018, applications for BOI's investment promotion were valued at a total of 683.9 billion baht for proposed investments in the Eastern Economic Corridor (EEC) area, which was an increase of 137.4 percent from 2017. This trend is expected to continue, especially as companies begin to relocate in response to escalating US-China trade tensions.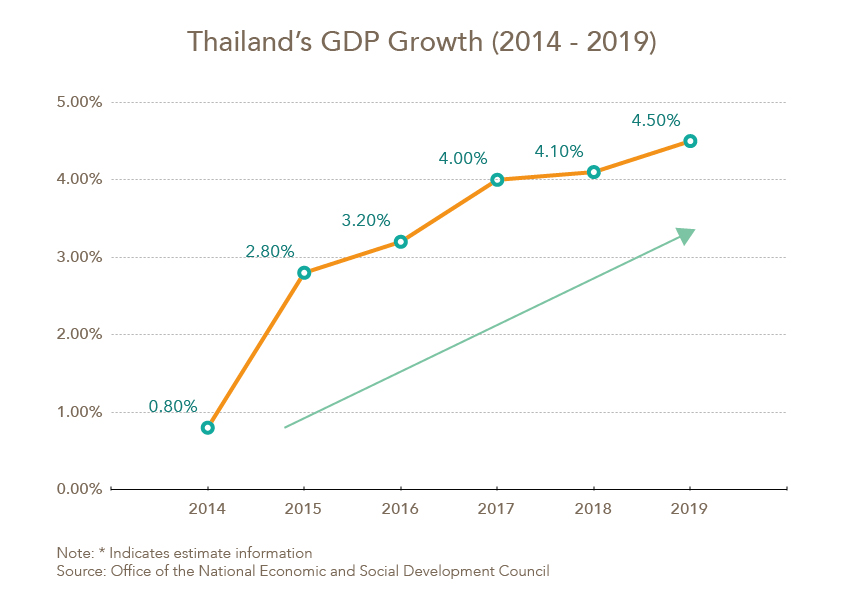 Regional and International Cooperation
Featuring an open economy with liberal economic policies, Thailand is a participant in a large number of bilateral Free Trade Agreements (FTAs), as well as the ASEAN Free Trade Agreement (AFTA). This allows businesses in Thailand to engage in virtually tariff-free trade with 17 different nations, including such major global economies as Australia, China, Japan, New Zealand, South Korea, and India in addition to the other 9 ASEAN members.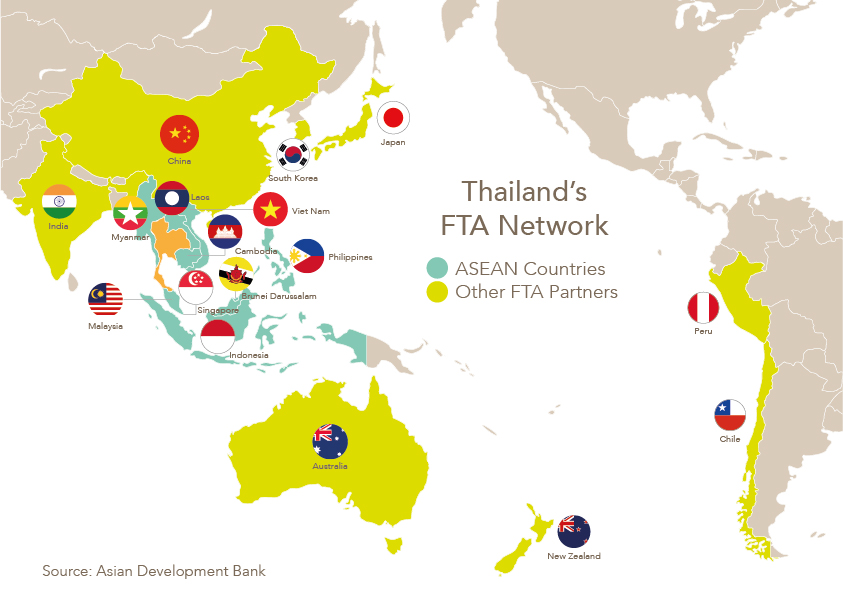 Furthermore, Thailand is in the process of negotiating to join the future Regional Comprehensive Economic Partnership (RCEP). The RCEP potentially could include more than 3 billion people or up to 45% of the world's population, with a combined GDP of about $21.3 trillion, accounting for about 40 percent of world trade. In addition, Thailand has announced its interest in joining the Comprehensive and Progressive Agreement for Trans-Pacific Partnership (CPTPP). These major trading blocs should provide enterprises in Thailand with greatly increased overseas market opportunities once they come into effect.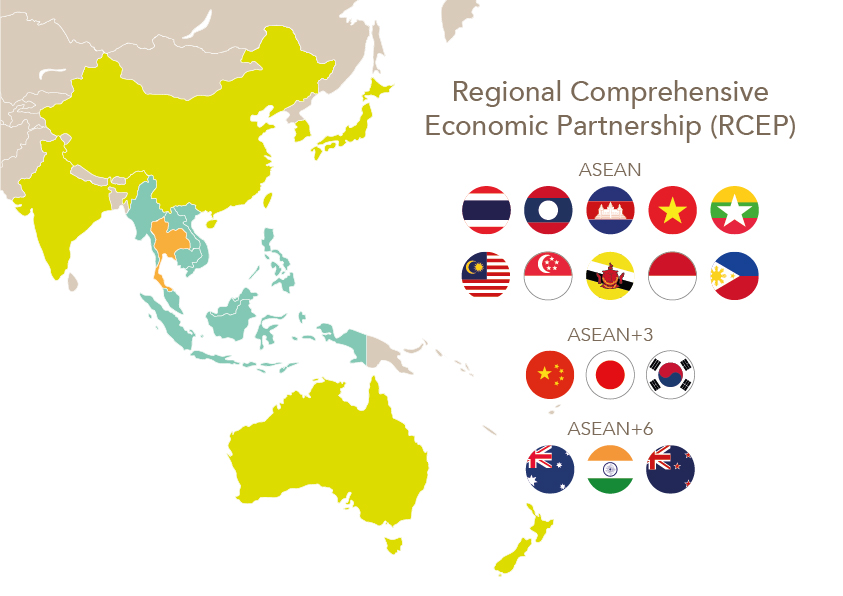 Leading Foreign Direct Investment Destination
As a magnet for foreign investment, FDI stock in Thailand has soared from USD 95 billion in 2008 to USD 219 billion in 2017; a compounded annual growth rate (CAGR) of 9.72% over the decade. Having grown at an increasing rate for the last 5 consecutive years, and with this growth expected to continue throughout 2019, Thailand's economy has the momentum to become an even stronger base for trade and investment in the immediate future.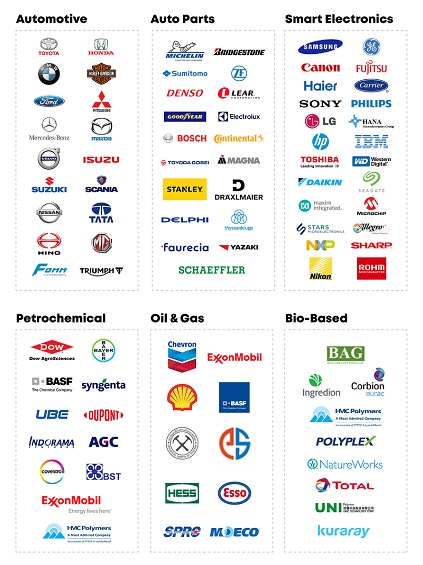 Streamlining Laws & Regulations, Application Procedures to Facilitate Business Operations
To further facilitate the business process for both foreign and local companies, the Thai government has been pursuing numerous initiatives aimed at assisting investors and streamlining procedures by eliminating and/or streamlining unnecessary laws and regulations that are or act as obstacles to business operations. This, along with other endeavors, has significantly improved Thailand's international ranking for ease of doing business, and reduced the amount of time needed to start a new business from 27.5 days to 4.5 days.
Thailand 4.0: A New Economic Model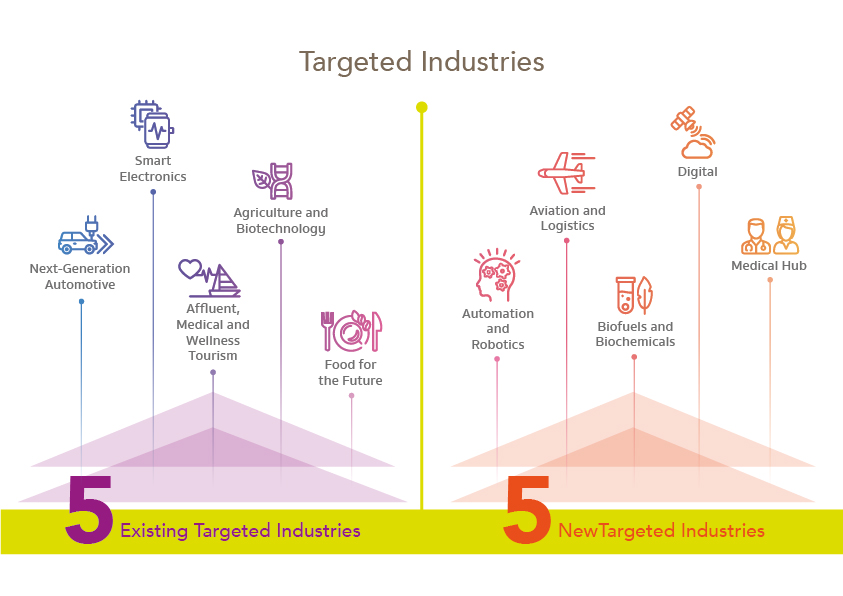 To ensure Thailand's economy continues to develop over the next 20 years, the Thai government has adopted a new economic model called Thailand 4.0, which is focused on transforming Thailand into a value-based economy built upon science, technology, innovation and creativity. To this end, five existing high potential industries and and an additional five new targeted industries have been identified as the "New Engines of Growth" driving the country into the future.
Strong Infrastructure: Large-scaled Infrastructure Development in Eastern Economic Corridor (EEC)
To further boost the country's competitiveness, the Thai government has generated a long-term infrastructure plan to accelerate economic growth. This plan prioritizes the improvement of existing infrastructure as well as the construction of numerous new projects in many areas including expansion of airports, seaports, roads, rail systems and ICT infrastructure.
For example, upgrades of Don Mueang and Suvarnabhumi International Airports are currently under way, while U-Tapao International Airport will also increase its capacity with the addition of a second runway and the redesign of airport space.
To provide additional maritime transport infrastructure and facilities, a USD 3 billion project will expand port capacity in the Eastern Seaboard area, including a cruise ship port in Sattahip and upgrades of the major shipping ports of Laem Chabang and Map Ta Phut. Once completed, Laem Chabang should be able to handle 18 million TEU a year while Map Ta Phut should be able to handle 19 million additional tons of cargo of petrochemicals and natural gas.
By extending the top-quality roads and highway network of Thailand, which presently connects provinces across the whole country, into all bordering countries, increased trade and investment among mainland ASEAN member countries will be facilitated. This network is also planned to be extended onward to China and India in the future. Projects underway are also expanding the highways to four or more traffic lanes nationally.
A USD 14.86 billion project is presently underway to upgrade routes to double-track railways and build 1.435 meter standard gauge tracks. Thailand's inter-city railway network is also being expanded to further improve transportation between Bangkok and the Eastern Seaboard area.
Mass Transit Transport
Bangkok is presently served by the BTS (Sky-train), MRT (Underground and Purple Line) light railway systems, and the Airport Rail Link. The Bangkok Metropolitan Administration (BMA) is working on the expansion of the city's light rail network under its M-MAP plan, with an anticipated expansion of 400 kilometers of new tracks to be added to the already existing 100 kilometers.
Digital Infrastructure
Thailand has also undertaken numerous projects to strengthen the country's ICT infrastructure, guided by the National Digital Economy Master Plan (2016-2020). The government has worked on providing free Wi-Fi hot spots in almost 25,000 villages across the country, creating a national broadband network and connecting to almost 75,000 villages, as well as all schools and local hospitals. Concurrently they have been doubling the capacity of the submarine cables serving the country, including adding a new cable connecting Thailand to Hong Kong. These projects, among other initiatives, have resulted in an increase in the local ICT market size and improved the country's international digital rankings. For example, Thailand has moved up 4 places in the United Nations EGDI rankings from 2016 to 2018, 4 places in the ITU IDI rankings from 2016 to 2017, and similarly 4 places in the International Institute for Management Development (IMD) World Digital Competitiveness Rankings from 2017 to 2018.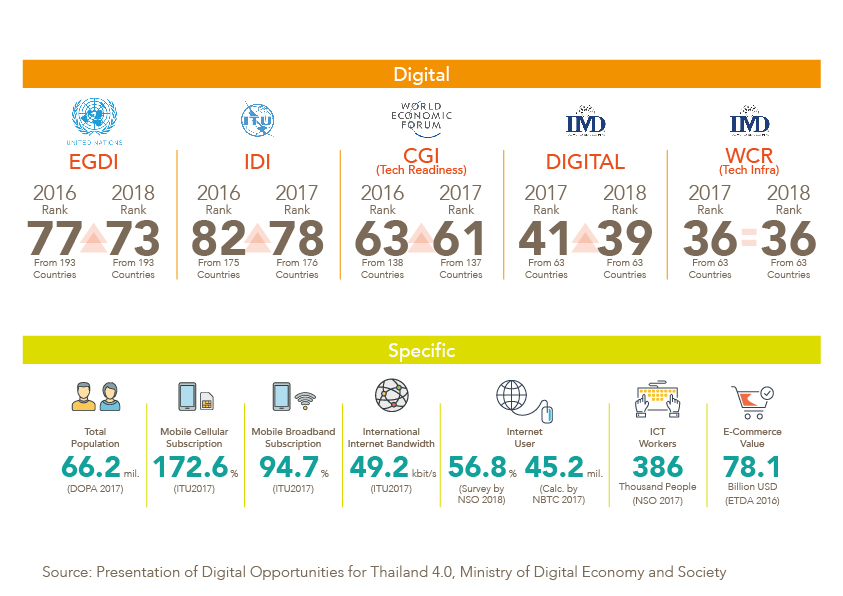 Science and Technology
Another key factor enhancing Thailand's competitiveness is the strength of its scientific and technological prowess. The National Science and Technology Development Agency (NSTDA) is the agency responsible for strengthening the development of science and technology in the country. They have established the Thailand Science Park (TSP), providing 2,000 highly-skilled personnel to support participating companies located in TSP areas. The expansion of TSP into Phase II is in the pipeline. With this enlargement, the park will become the largest fully-integrated research and development hub in Thailand. In addition, Thailand has established three regional science parks. There are the Northern Science Park in Chiang Mai, the Northeastern Science Park in Khon Kaen and the Southern Science Park in Songkla.
Eastern Economic Corridor (EEC)
Building on the success of the Eastern Seaboard, the Thai government is presently developing the Eastern Economic Corridor (EEC), an ASEAN-leading economic zone for industrial, infrastructure, and urban development spanning over 13,000 sq. km. across three provinces of Chonburi, Rayong, and Chachoengsao. During the first five years, approximately USD 50 billion of combined public and private investment projects are expected in the EEC. To further support innovation-led business within the EEC, the investment environment features generous tax and non-tax incentives as well as eased regulatory restrictions. The designated zones for targeted industries are EECi, EECd and EECa.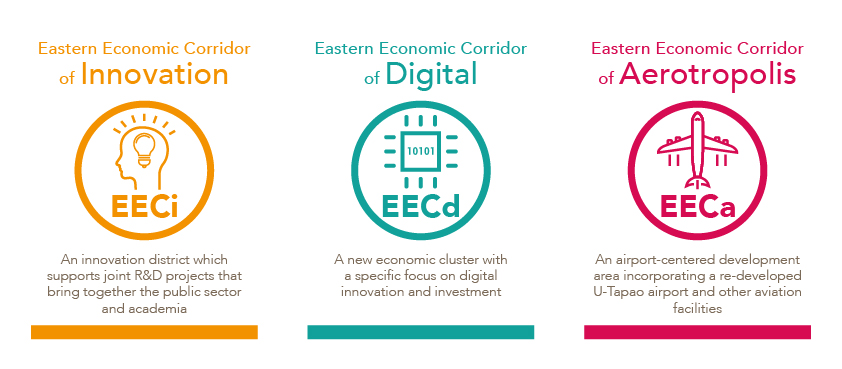 As of October 30th, 2020
Thailand's Advantages
Gateway to Asia
Thailand enjoys a strategic location and serves as a gateway into the heart of Asia – home to what is today the largest growing economic market.

The country also offers convenient trade with China, India and the countries of the Association of Southeast Asian Nations (ASEAN), and easy access into the Greater Mekong sub-region, where newly emerging markets offer great business potential.
Hub of ASEAN
Thailand was one of the founding members of ASEAN and has been instrumental in the formation and development of the ASEAN Free Trade Area (AFTA).
AFTA entered into force on 1 January 2010 for the six original ASEAN (ASEAN-6) members (Thailand, Singapore, Malaysia, Indonesia, Philippines, and Brunei) thereby reducing import duties to zero; the so-called CLMV countries (Cambodia, Laos, Myanmar and Vietnam) will follow suit in 2015.
 Thailand has forged close economic cooperation with other ASEAN member nations, and Thai manufactured products and services have access to their markets, which includes all 10 ASEAN countries. ASEAN is home to more than half a billion people GDP in excess of US$1.5 trillion and total trade of well more than US$1 trillion per year.
Social and political stability
Thailand is a foreigner friendly and welcoming Buddhist country. The country's form of government is a constitutional monarchy, with a high reverence for the Thai Monarchy, and devotion to the teachings of Buddhism. And although the vast majority of the people in Thailand are Buddhist, all religions are welcome, and His Majesty the King is the patron of all religions.
Growing economy
Economically, this country of 67 million people is characterized by steady growth, strong exports and a vibrant domestic consumer market. Abundant natural resources and a skilled and cost-effective work force help attract foreign investors, and enable them to prosper and develop industry in Thailand. 
Sufficient infrastructure
Thailand has good infrastructure with modernized transportation facilities, as well as upgraded communications and IT networks that ensure optimum business and living conditions. World-class industrial estates boast sophisticated facilities and support services to meet the needs of multinationals and SMEs alike.
FDI policies
The country's well-defined investment policies focus on liberalization and encourage free trade. Foreign investments, especially those that contribute to the development of skills, technology and innovation are actively promoted by the government. Thailand consistently ranks among the most attractive investment locations in international surveys, and the World Bank's 2010 Ease of Doing Business report places Thailand as the 12th easiest country in the world in which to do business.
Government support and incentives
Numerous government agencies support investors. Through the Board of Investment, the government offers a range of tax incentives, support services and import duty exemptions or reductions to an extensive list of promoted activities.
Companies receiving investment promotion privileges from the Board of Investment are not subject to foreign equity restrictions in the manufacturing sector, and there are no local content requirements nor export requirements, as Thailand's investment regime is in total compliance with WTO regulations.
The Board of Investment also coordinates the activity of the One-Stop Service Center for Visas and Work Permits, which enables foreign staff of BOI-promoted companies to obtain work permits and long-term visas within three hours or less.
The BOI also administers the One Start One Stop Investment Center, which opened in November 2009 to facilitate a full range of services and streamline investment procedures by bringing representatives from more than 20 government agencies under one roof.
In addition to the activities of the BOI, other government organizations, such as the Department of Export Promotion and international chambers of commerce, provide invaluable support and a host of other important services.
Long–established and newly emerging industries 
With steady economic development and strong support industries, the country's industrial production has grown and diversified rapidly both in long–established and newly emerging industries.
The government has emphasized attracting investment in six sectors that have been determined to be key to the country's developmental objectives. These six target industries include: agriculture and agro-industry, alternative energy, automotive, electronics and ICT, fashion, and value-added services including entertainment, healthcare and tourism.
Friendly and rich culture
Thailand has gained a well-deserved reputation throughout the world for its gracious hospitality. The friendliness of its people and the diverse nature of Thai culture make visitors feel safe and at home in Thailand.
Education and healthcare services
The education standards in Thailand are accepted by many international examining bodies, and a great number of international schools and colleges offer world-class education, while its universities are outstanding.
In terms of healthcare, the country has developed an excellent reputation globally, due to its internationally-certified doctors and medical staff, and modern facilities and equipment. It is so good that one of the fastest-rising tourism sectors is medical tourism, with international patients visiting Thailand to take advantage of Thailand's world-class and extremely affordable health care system.