Thailand in Brief

Success Stories

Business Opportunities
Thailand's Advantages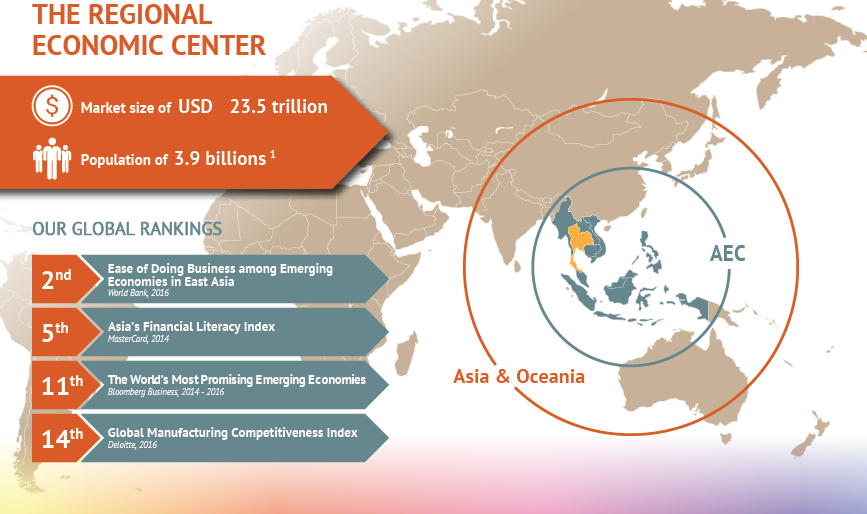 Strategically located at the heart of Asia, Thailand aptly serves investors as a dynamic gateway to a fast growing economic market. Our growing economy, world-class infrastructure, competitive human capital and strong government support, are responsible for our key position as one of the most attractive investment destinations for foreign investors.

Thailand has demonstrated remarkable economic progress experiencing foreign direct investment (FDI) inflows' growth of 21% over the past 6 years, compared to the global percentage of 0.7%. Occupying the 4th rank in Asia's top prospective host economies, Thailand has gained a solid reputation as a second home for various global multinational enterprises (MNEs).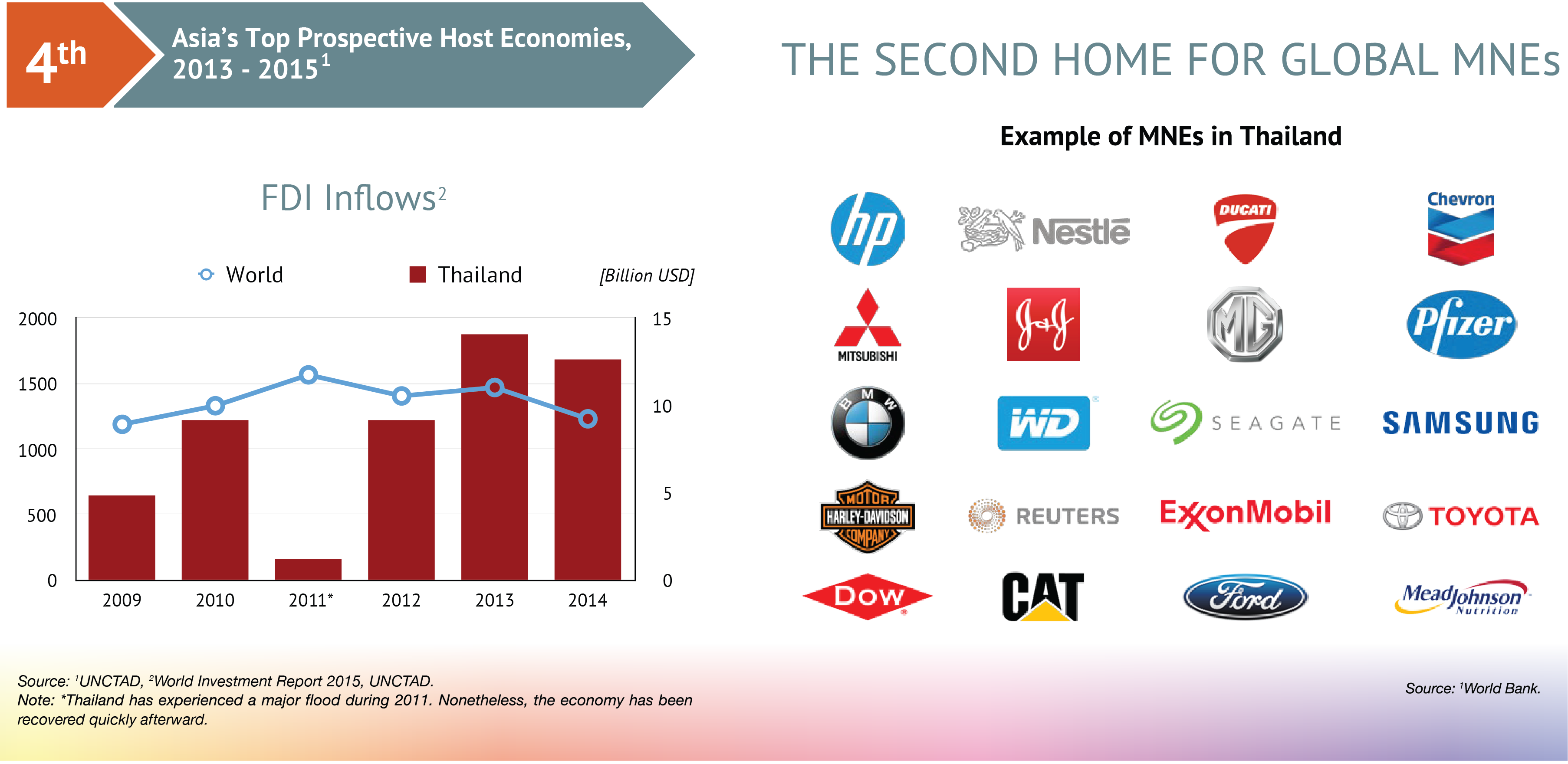 The establishment of the ASEAN Economic Community (AEC) in 2015 has set up ASEAN as a single market that facilitates free flows of goods; and freer flows of services, investment, capital and skilled labor within the region. With further progress and expansion, we will become the center of a new economic engine of ASEAN.

Thailand has signed free trade agreements (FTA) with numerous trading partners worldwide, to reinforce its commitment to free and fair global trade, while conducting ongoing negotiations for new FTAs.

Thailand has more than 465,000 kilometers of roads and a vast highway network connecting each region nationwide. We are also continuously upgrading and constructing new international road networks. Our goal is to increase regional cooperation with numerous fast-growing countries such as China, India, Viet Nam, Malaysia and Singapore and become a major hub of regional road connectivity.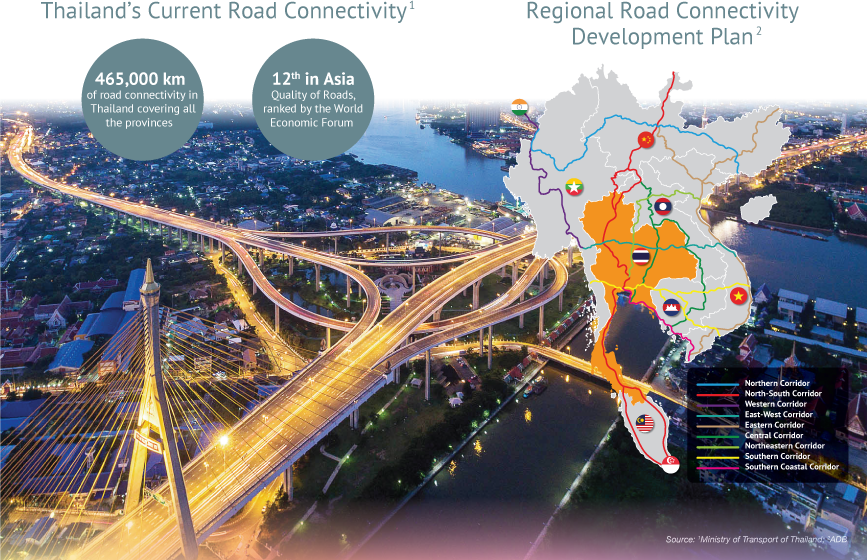 More than 4,000 kilometers of railway lines connect the various regions of Thailand. Plans are in the works to build both double-track railways and high speed trains, enabling a better connection with neighboring countries. A new mass transit system in Bangkok is also under construction. A total of more than 175 new stops are expected in the Bangkok Metropolitan Mass Transit system as well as in the rail connection between the Suvarnabhumi and Don Mueang airports.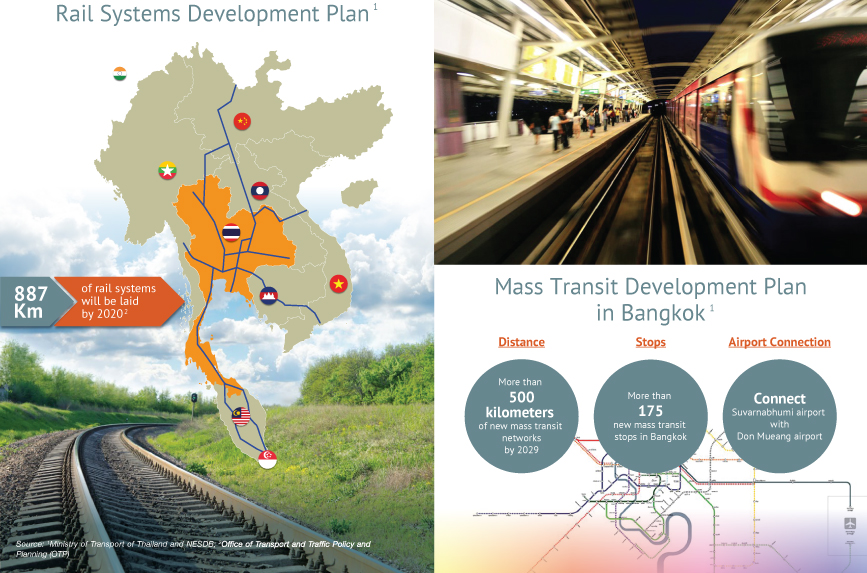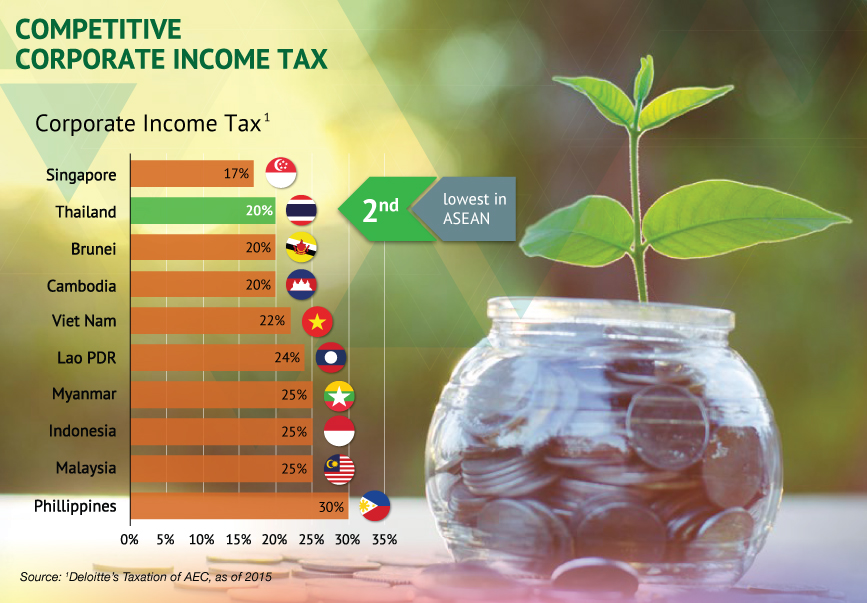 With the reduction of the successive corporate income tax to 20% in 2013, the corporate tax rate in Thailand ranks as the 2nd lowest in the ASEAN countries. Not only has this led to an increase in economic activities and investments in Thailand but it has also put the kingdom in a competitive position against other countries.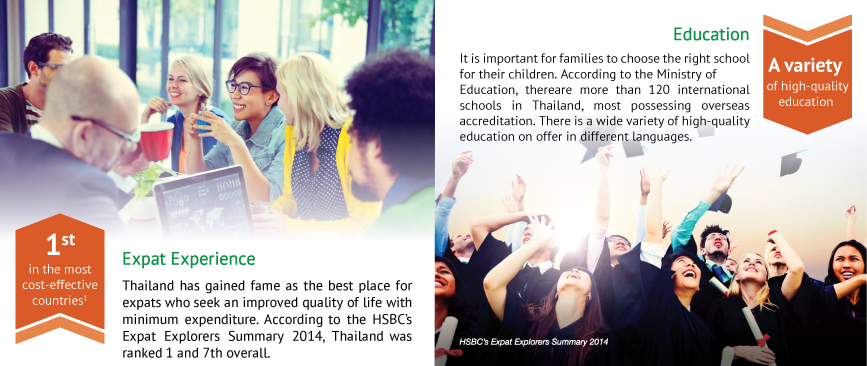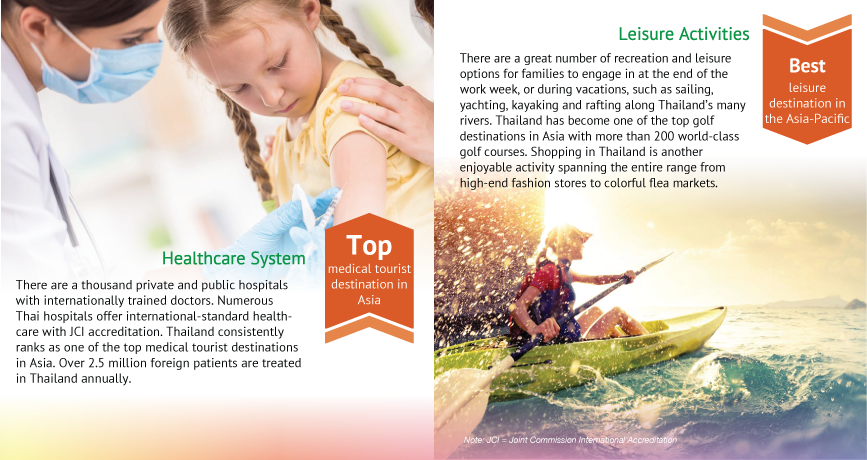 Updated : 30 October 2017
Thailand's Advantages
Gateway to Asia
Thailand enjoys a strategic location and serves as a gateway into the heart of Asia – home to what is today the largest growing economic market.

The country also offers convenient trade with China, India and the countries of the Association of Southeast Asian Nations (ASEAN), and easy access into the Greater Mekong sub-region, where newly emerging markets offer great business potential.
Hub of ASEAN
Thailand was one of the founding members of ASEAN and has been instrumental in the formation and development of the ASEAN Free Trade Area (AFTA).
AFTA entered into force on 1 January 2010 for the six original ASEAN (ASEAN-6) members (Thailand, Singapore, Malaysia, Indonesia, Philippines, and Brunei) thereby reducing import duties to zero; the so-called CLMV countries (Cambodia, Laos, Myanmar and Vietnam) will follow suit in 2015.
 Thailand has forged close economic cooperation with other ASEAN member nations, and Thai manufactured products and services have access to their markets, which includes all 10 ASEAN countries. ASEAN is home to more than half a billion people GDP in excess of US$1.5 trillion and total trade of well more than US$1 trillion per year.
Social and political stability
Thailand is a foreigner friendly and welcoming Buddhist country. The country's form of government is a constitutional monarchy, with a high reverence for the Thai Monarchy, and devotion to the teachings of Buddhism. And although the vast majority of the people in Thailand are Buddhist, all religions are welcome, and His Majesty the King is the patron of all religions.
Growing economy
Economically, this country of 67 million people is characterized by steady growth, strong exports and a vibrant domestic consumer market. Abundant natural resources and a skilled and cost-effective work force help attract foreign investors, and enable them to prosper and develop industry in Thailand. 
Sufficient infrastructure
Thailand has good infrastructure with modernized transportation facilities, as well as upgraded communications and IT networks that ensure optimum business and living conditions. World-class industrial estates boast sophisticated facilities and support services to meet the needs of multinationals and SMEs alike.
FDI policies
The country's well-defined investment policies focus on liberalization and encourage free trade. Foreign investments, especially those that contribute to the development of skills, technology and innovation are actively promoted by the government. Thailand consistently ranks among the most attractive investment locations in international surveys, and the World Bank's 2010 Ease of Doing Business report places Thailand as the 12th easiest country in the world in which to do business.
Government support and incentives
Numerous government agencies support investors. Through the Board of Investment, the government offers a range of tax incentives, support services and import duty exemptions or reductions to an extensive list of promoted activities.
Companies receiving investment promotion privileges from the Board of Investment are not subject to foreign equity restrictions in the manufacturing sector, and there are no local content requirements nor export requirements, as Thailand's investment regime is in total compliance with WTO regulations.
The Board of Investment also coordinates the activity of the One-Stop Service Center for Visas and Work Permits, which enables foreign staff of BOI-promoted companies to obtain work permits and long-term visas within three hours or less.
The BOI also administers the One Start One Stop Investment Center, which opened in November 2009 to facilitate a full range of services and streamline investment procedures by bringing representatives from more than 20 government agencies under one roof.
In addition to the activities of the BOI, other government organizations, such as the Department of Export Promotion and international chambers of commerce, provide invaluable support and a host of other important services.
Long–established and newly emerging industries 
With steady economic development and strong support industries, the country's industrial production has grown and diversified rapidly both in long–established and newly emerging industries.
The government has emphasized attracting investment in six sectors that have been determined to be key to the country's developmental objectives. These six target industries include: agriculture and agro-industry, alternative energy, automotive, electronics and ICT, fashion, and value-added services including entertainment, healthcare and tourism.
Friendly and rich culture
Thailand has gained a well-deserved reputation throughout the world for its gracious hospitality. The friendliness of its people and the diverse nature of Thai culture make visitors feel safe and at home in Thailand.
Education and healthcare services
The education standards in Thailand are accepted by many international examining bodies, and a great number of international schools and colleges offer world-class education, while its universities are outstanding.
In terms of healthcare, the country has developed an excellent reputation globally, due to its internationally-certified doctors and medical staff, and modern facilities and equipment. It is so good that one of the fastest-rising tourism sectors is medical tourism, with international patients visiting Thailand to take advantage of Thailand's world-class and extremely affordable health care system.