La Thaîlande en Bref

Avis des investisseurs

Secteurs clés

Industrie aéronautique: production des pièces détachées et maintenance

[{"have_node":0,"menu_link":"index.php?page=thailand_advantages","type_click":"_self","menu_name":"Les avantages de la Thaîlande"},{"have_node":0,"menu_link":"index.php?page=thailand_rankings","type_click":"_self","menu_name":"La Thaïlande dans le monde?"},{"have_node":0,"menu_link":"index.php?page=macroeconomics","type_click":"_self","menu_name":"macroéconomie "},{"have_node":0,"menu_link":"index.php?page=living_in_thailand","type_click":"_self","menu_name":"Vivre en Thaïlande "},{"have_node":1,"menu_name":"La Thaîlande en Bref ","node":[{"have_node":0,"menu_link":"index.php?page=demographic","type_click":"_self","menu_name":"Démographie"},{"have_node":0,"menu_link":"index.php?page=economic_overview","type_click":"_self","menu_name":"Aperçu économique "},{"have_node":0,"menu_link":"index.php?page=social_and_culture","type_click":"_self","menu_name":"Culture et Société "},{"have_node":1,"menu_name":"Infrastructure","node":[{"have_node":0,"menu_link":"index.php?page=electricity","type_click":"_self","menu_name":"Electricité "},{"have_node":0,"menu_link":"index.php?page=water_supply","type_click":"_self","menu_name":"Approvisionnement en eau "},{"have_node":0,"menu_link":"index.php?page=telephone_services","type_click":"_self","menu_name":"Services téléphoniques "},{"have_node":0,"menu_link":"index.php?page=seaports","type_click":"_self","menu_name":"Les ports maritimes "},{"have_node":0,"menu_link":"index.php?page=airports","type_click":"_self","menu_name":"Aéroports "},{"have_node":0,"menu_link":"index.php?page=highways","type_click":"_self","menu_name":"Voirie "},{"have_node":0,"menu_link":"index.php?page=railways","type_click":"_self","menu_name":"Réseaux ferroviaires"},]},]},{"have_node":1,"menu_name":"Avis des investisseurs","node":[{"have_node":0,"menu_link":"index.php?page=success_stories&group_id=101363","type_click":"_self","menu_name":"The Next-generation Automotive"},{"have_node":0,"menu_link":"index.php?page=success_stories&group_id=101364","type_click":"_self","menu_name":"The Intelligent Electronics"},{"have_node":0,"menu_link":"index.php?page=success_stories&group_id=101365","type_click":"_self","menu_name":"Advanced Agriculture and Biotechnology Enterprises"},{"have_node":0,"menu_link":"index.php?page=success_stories&group_id=101366","type_click":"_self","menu_name":"Food Processing Industries"},{"have_node":0,"menu_link":"index.php?page=success_stories&group_id=101367","type_click":"_self","menu_name":"Tourism"},{"have_node":0,"menu_link":"index.php?page=success_stories&group_id=101369","type_click":"_self","menu_name":"Advanced Robotics for Industrial and Domestic Use"},{"have_node":0,"menu_link":"index.php?page=success_stories&group_id=101371","type_click":"_self","menu_name":"Medical Hub & Total Healthcare Services"},{"have_node":0,"menu_link":"index.php?page=success_stories&group_id=101372","type_click":"_self","menu_name":"Biofuels and Biochemical Industries"},{"have_node":0,"menu_link":"index.php?page=success_stories&group_id=101370","type_click":"_self","menu_name":"An Integrated Aviation"},{"have_node":0,"menu_link":"index.php?page=success_stories&group_id=101373","type_click":"_self","menu_name":"Digital Technology"},]},{"have_node":1,"menu_name":"Secteurs clés","node":[{"have_node":1,"menu_name":"Industrie aéronautique: production des pièces détachées et maintenance","node":[{"have_node":0,"menu_link":"index.php?page=business_opportunities_detail&topic_id=117514","type_click":"_self","menu_name":"Aerospace Industry"},{"have_node":0,"menu_link":"index.php?page=business_opportunities_detail&topic_id=117515","type_click":"_self","menu_name":"Alternative Energy"},{"have_node":0,"menu_link":"index.php?page=business_opportunities_detail&topic_id=117517","type_click":"_self","menu_name":"Automotive Industry"},{"have_node":0,"menu_link":"index.php?page=business_opportunities_detail&topic_id=117516","type_click":"_self","menu_name":"Automation & Robotics"},{"have_node":0,"menu_link":"index.php?page=business_opportunities_detail&topic_id=117519","type_click":"_self","menu_name":"Bioeconomy"},{"have_node":0,"menu_link":"https://www.boi.go.th/index.php?page=business_opportunities_detail&topic_id=130725","type_click":"_self","menu_name":"Biopharmaceutical Industry"},{"have_node":0,"menu_link":"index.php?page=business_opportunities_detail&topic_id=117518","type_click":"_self","menu_name":"Bio-plastics Industry"},{"have_node":0,"menu_link":"index.php?page=business_opportunities_detail&topic_id=128004","type_click":"_self","menu_name":"Data Center and Cloud Service"},{"have_node":0,"menu_link":"index.php?page=business_opportunities_detail&topic_id=117530","type_click":"_self","menu_name":"Digital, Creative, and Startup Ecosystem"},{"have_node":0,"menu_link":"https://www.boi.go.th/index.php?page=business_opportunities_detail&topic_id=130734","type_click":"_self","menu_name":"Electric Vehicle Services"},{"have_node":0,"menu_link":"index.php?page=business_opportunities_detail&topic_id=117522","type_click":"_self","menu_name":"Food Industry"},{"have_node":0,"menu_link":"https://www.boi.go.th/index.php?page=business_opportunities_detail&topic_id=130732","type_click":"_self","menu_name":"High Value-added Services"},{"have_node":0,"menu_link":"index.php?page=business_opportunities_detail&topic_id=117525","type_click":"_self","menu_name":"Machinery Industry"},{"have_node":0,"menu_link":"index.php?page=business_opportunities_detail&topic_id=128002","type_click":"_self","menu_name":"Medical Device"},{"have_node":0,"menu_link":"index.php?page=business_opportunities_detail&topic_id=117526","type_click":"_self","menu_name":"Medical Hub"},{"have_node":0,"menu_link":"index.php?page=business_opportunities_detail&topic_id=117529","type_click":"_self","menu_name":"Rubber Industry"},{"have_node":0,"menu_link":"index.php?page=business_opportunities_detail&topic_id=117532","type_click":"_self","menu_name":"Smart E&E Industry"},{"have_node":0,"menu_link":"index.php?page=business_opportunities_detail&topic_id=117531","type_click":"_self","menu_name":"Textile Industry"},]},]},]
Living in Thailand
The Board of Investment offers investors a competitive package of fiscal and non-tax incentives, as well as a wide range of services before during and after the application process. The combination of incentives and services has enabled Thailand to consistently attract large numbers of investors from around the world.
However, once an investor decides to come to Thailand, what can he expect?
Well, to begin with, living in Bangkok is inexpensive compared with costs in major metropolitan areas around the world, including capital cities in Asia. In its 2019 Expat Experience Report, HSBC ranked Thailand #22 for overall expat experience. Physical and mental wellbeing and ease of setting in were ranked the 4th in the 'Living' section of the survey.1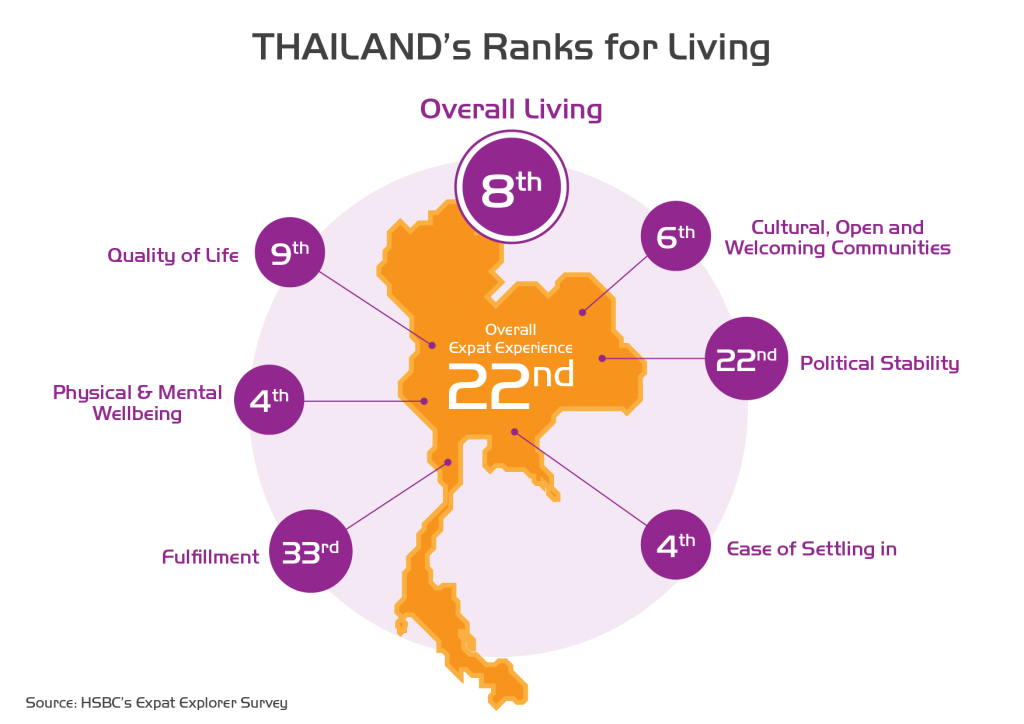 "Expats relish Thailand's climate and low cost of living, which make it an incredibly popular destination to start a new life, especially for retirees. Accommodation is affordable and modern. The public transport and communications infrastructure is good. And you'll enjoy a comfortable lifestyle in exotic surroundings. Thai people are friendly and accepting of 'farangs' (foreigners), although you may find it takes longer to develop strong relationships."2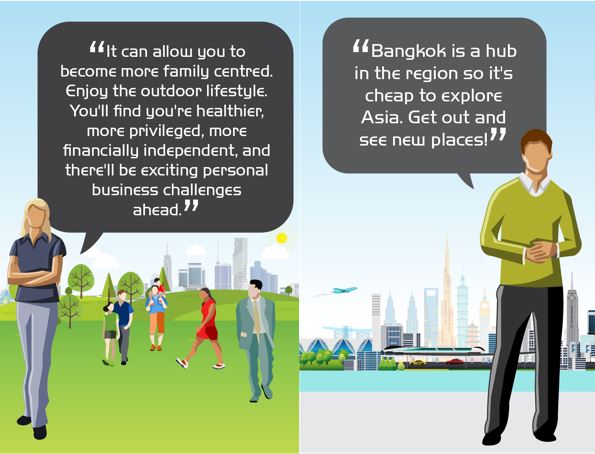 The survey on the Costs of Living for the year 2022, carried out by Mercer HR, indicates that Bangkok remains one of the most cost-effective cities globally, with a ranking of 106th on the list of expensive cities. This ranking is notably lower compared to other major cities in Asia, such as Hong Kong, which tops the list at #1, Singapore at #8, Tokyo at #9, Beijing at #10, Shanghai at #12, Seoul at #14, and Osaka at #37.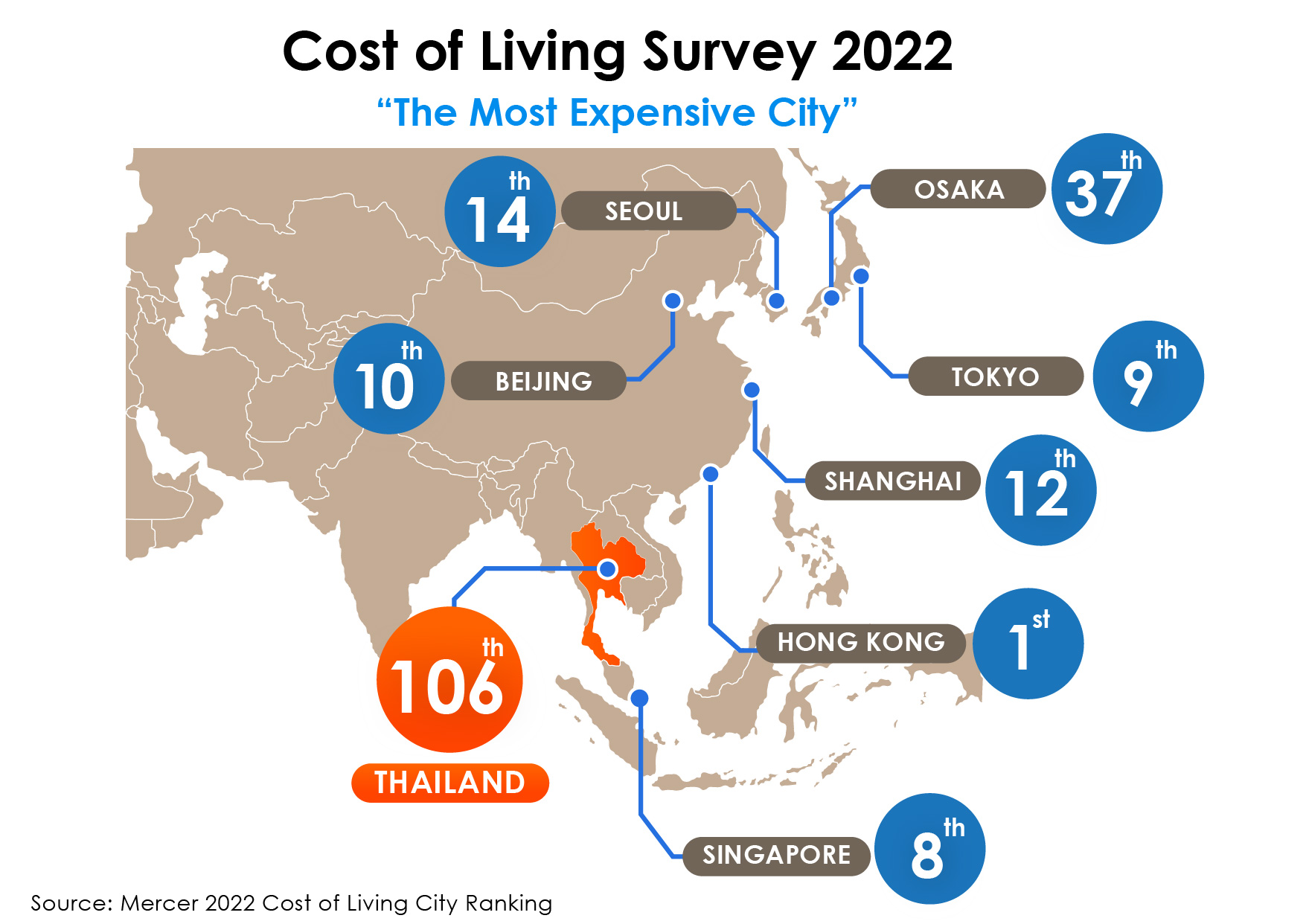 The combination of affordability and an attractive investment location is hard to beat and for their families, Thailand provides a wide range of international schools and world-class hospitals.
The country has more than 100 international schools, offering classes in English, Japanese, French, German and Chinese, as well as other languages and curricula. Graduates from Thai international schools are accepted at some of the world's most prestigious institutes of higher learning.
In terms of healthcare, the country has developed an excellent reputation globally, due to its internationally-certified doctors and medical staff, and modern facilities and equipment. It is so good that one of the fastest-rising tourism sectors is medical tourism, with international patients visiting Thailand to take advantage of Thailand's world-class and extremely affordable health care system. Many of Thailand's private hospitals have achieved international standards of quality and are staffed by physicians with a wide range of specialties.
Moving on to recreation, whatever your sport, Thailand's got it. From tennis and golf to cricket, rugby union and polo, almost every outdoor sport is available. For example, Thailand is home to more than 100 golf courses, many of which are world-class, having been designed by some of the most prestigious golf course architects and players in the world, including Robert Trent Jones, Jr., Jack Nicklaus, Gary Player and Greg Norman. Several courses, including one at an industrial estate, have hosted events that have attracted the world's top golfers.
If you're looking for indoor sports, Thailand has many bowling alleys, snooker halls, and fitness centers, and even a few ice skating rinks. If you're looking to get wet, Thailand offers almost everything you could want, from world-class scuba diving and snorkeling to sailing, sea kayaking, deep sea fishing, and much, much more.
All that exercise is going to make you hungry, and you've come to the right place. Thai food is one of the most popular cuisines in the world, and all around Thailand you can sample the different styles of Thai food, from roadside food stalls to royal Thai cuisine. And, if you want food from your home country, no matter where you are from, it's a good bet you can find it in Thailand. It's worth noting that international cuisine is not just in Bangkok.
Due to the large number of Japanese businesses that have invested in Thailand, Japanese cuisine can be found in close proximity to many of Thailand's world-class industrial estates, and other non-traditional Thai food (e.g. pizza, ice cream, etc.) can be found in almost every city.
However, man does not live by food alone, and if you're looking to explore the region, Thailand is the perfect place to begin a journey, as it boasts one of the region's most developed transportation infrastructures.
Thailand's capital, Bangkok, is home to Suvarnabhumi International Airport, one of the world's busiest airports, and Don Mueang International Airport, which is home to many low-cost carriers. In 2018, Suvarnabhumi Airport and Don Mueang International Airport handled 641,837 flights, an increase of 7.10% from the fiscal year 2017. Thailand has 38 airports, including seven international airports, and International services are provided by many carriers, including Thai Airways International Public Co., Ltd. Thai Airways flies to 76 cities in 35 countries throughout the world. Thai Airways is highly regarded because of the quality of food and the efficiency of the flight attendants, and is one of the most popular airlines. It is part of the Star Alliance Network, which is composed of fifteen airlines, providing a network of airlines that covers the whole world.
In addition domestic services are available to all regions of Thailand.
In terms of road transportation, Thailand is home to a vast highway network that connects each region of the country, and through regional integration, Thailand is becoming a hub of regional road transportation.
In terms of rail systems, Thailand's rail transportation network stretches more than 4,000 kilometers, linking up with Malaysia and onward to Singapore. In the capital of Bangkok, there are two mass transit systems already in place and more under construction.
Lastly, Thailand's communications network is extensive, with 130 million mobile phone connections and 49 million mobile social users, along with 57 million internet users with 52 million active social media users in 2020. The surging Thai e-commerce market has reached a staggering 99.1 Billion USD with current international bandwidth achieving 12 Tbps, resulting in a throughput to the end user of 45.5 Mbps, the second fastest Internet in ASEAN.

Read more on working in Thailand, please click here.
Source:
1. HSBC, https://www.expatexplorer.hsbc.com/survey/
2. HSBC, https://www.expatexplorer.hsbc.com/hintsandtips/tips/country/TH
3. https://www.mercer.com/our-thinking/career/cost-of-living.html
4. A Presentation "Infrastructure for Doing Business in Digital Sector in Thailand" by Permanent Secretary, Ministry of Digital Economy and Society
Last updated: March 30th, 2023