Senior Management

Organization Chart

Contact Us

[{"have_node":0,"menu_link":"index.php?page=what_we_do3","type_click":"_self","menu_name":"What we do"},{"have_node":0,"menu_link":"index.php?page=our_history2","type_click":"_self","menu_name":"History"},{"have_node":0,"menu_link":"index.php?page=our_board_members","type_click":"_self","menu_name":"Board Members"},{"have_node":0,"menu_link":"index.php?page=executive_management","type_click":"","menu_name":"Executive Management "},{"have_node":1,"menu_name":"Senior Management","node":[{"have_node":0,"menu_link":"index.php?page=our_senior_management&group_id=3","type_click":"_self","menu_name":"Support and Services"},{"have_node":0,"menu_link":"index.php?page=our_senior_management&group_id=97","type_click":"_self","menu_name":"Investment Promotion"},{"have_node":0,"menu_link":"index.php?page=our_senior_management&group_id=2","type_click":"_self","menu_name":"Overseas Offices"},{"have_node":0,"menu_link":"index.php?page=our_senior_management&group_id=5","type_click":"_self","menu_name":"Regional Offices"},]},{"have_node":1,"menu_name":"Organization Chart","node":[{"have_node":0,"menu_link":"index.php?page=organization_chart","type_click":"_self","menu_name":"Organization Chart"},{"have_node":0,"menu_link":"en/chart_detail","type_click":"_self","menu_name":"Organization Chart Details"},]},{"have_node":1,"menu_name":"Contact Us","node":[{"have_node":0,"menu_link":"index.php?page=head_office","type_click":"_self","menu_name":"Map to BOI Head Office"},{"have_node":0,"menu_link":"index.php?page=osos_office","type_click":"_self","menu_name":"OSOS"},{"have_node":0,"menu_link":"index.php?page=regional_office","type_click":"_self","menu_name":"Regional Offices"},{"have_node":0,"menu_link":"index.php?page=oversea_office","type_click":"_self","menu_name":"Overseas Offices"},{"have_node":0,"menu_link":"un/ebooking","type_click":"_self","menu_name":"BOI e-Booking"},]},]
Mr. Chanin Khaochan
Deputy Secretary General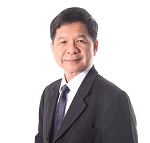 Mr. Chanin Khaochan, Deputy Secretary General, Thailand Board of Investment, began his career at the Office of the Board of Investment in 1986. He had held important positions as follows:
- Economic Advisor (Investment) in Tokyo, Japan between 1995 and 1997
- Director of Regional Investment and Economic Center 2 (Phitsanulok) between 2004 and 2005
- Director of BUILD Unit between 2005 and 2011. He initiated the Subcon Thailand Exhibition in 2006 to create market opportunities for Thai industrial part manufacturers, especially to raise SMEs to be on par with international level. Presently, the exhibition has been organized annually in May
- Counselor (Investment) at the Regional Investment and Economic Center in Frankfurt, Federal Republic of Germany between 2011 and 2014
- Director of the Regional Investment & Economic Center 4 (Chonburi) between 2015 and 2017
- Director of Information and Communications Technology Center between 2017 and 2019 Investment Advisor (Plan and Policy Analyst) since 2019
Mr. Chanin Khaochan earned his Bachelor of Engineering from Chulalongkorn University and a certificate of completion for advanced training program from the National Defense College, Thailand (NDC60). In 2000, he was assigned as a Consultant on foreign investment influence in the Bangladesh Board of Investment.
Contact Detail: