BOI Promotion Procedure
Processes for Projects Application and Utilization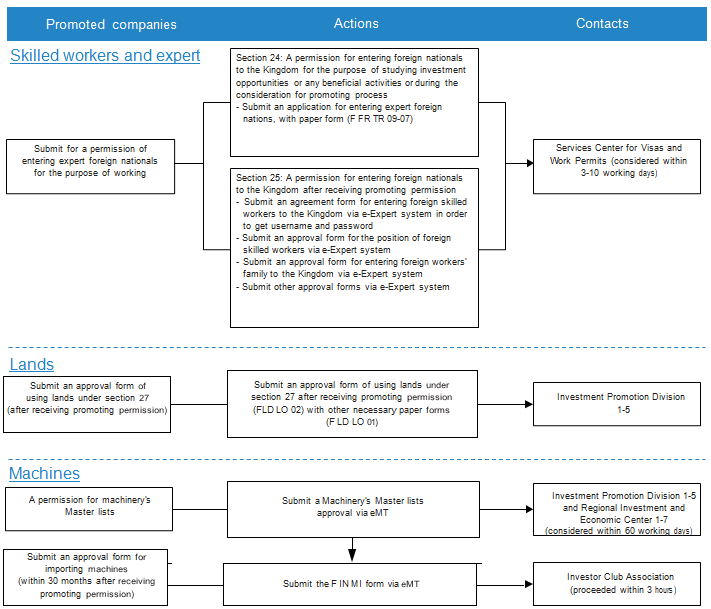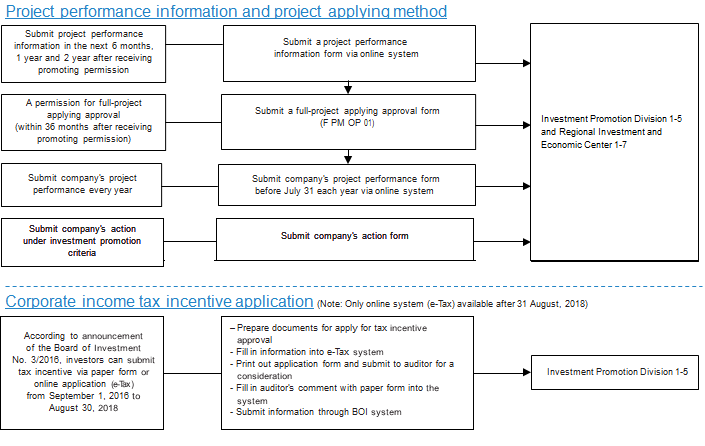 Action Required after a Project is Approved for Promotion
After receipt of the investment promotion certificate, the promoted company must meet the following conditions and inform the OBOI at each stage
Within 30 months, the machinery and equipment must be imported to benefit from the reduction of, or exemption from, taxes and duties.

Within 36 months, construction must be completed, the machinery and equipment installed, and the factory ready to begin operations. Use form F PM OP 01.

The promoted company must ask for written permission from the OBOI if the operation has to be halted for more than two months.

The OBOI must give written permission before a promoted company may mortgage, sell, transfer, or rent machinery which was brought into the country either exempt from, or at a reduced rate of tax. Similar permission must be obtained to use machinery for non-approved purposes.

If an inspector finds that the promoted company is not meeting the prescribed conditions, the OBOI will send an official warning note. If there are insufficient reasons why the conditions are not being met, the OBOI will recommend to the Board that the promotion certificate be withdrawn, and inform the Ministry of Finance and other related agencies accordingly.
Previous Step